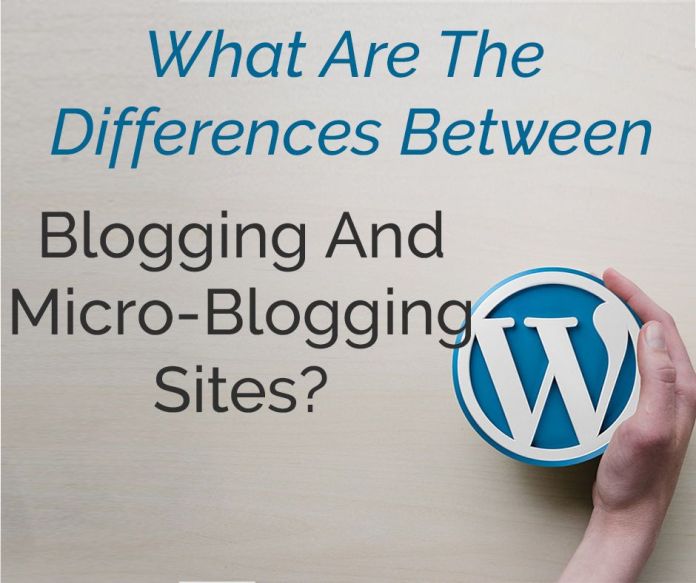 One major milestone in the history of the internet has been the development of blogging and micro-blogging websites.
In this article, let us learn what are they and what distinguishes them from each other.
Blogging sites
A blog is a journal of ideas or a diary published online without character limit. Its owner has the freedom to express his opinions about one or more topics.
Basically, a blogging site is one that provides you a personal online space in which you can write and publish texts, or news items called "posts", which may also contain images and hyperlinks.
They are designed to be used as online diaries collected chronologically. The "posts" or articles are shown from newest to oldest, where the author always retains the freedom of publishing whatever seems appropriate to him.
The blogger can control user comments, and can also enable his blog to be followed by others, which means that the system will send emails or messages to subscribed users whenever the blog owner posts a new article. The most used blog hosts are www.blogger.com and www.wordpress.com
Micro-blogging sites
The latest development in the field of applications to communicate over the Internet are microblogs. Microblogging, also known as nanoblogging, is a service that enables its users to send and publish short messages (about 140 characters), usually only text and regularly respond to questions like "What are you doing?" "What do you find interesting?" etc.
These updates are displayed on the user's profile page and are also immediately sent to other users who have chosen the option of receiving them. The user can restrict the sending of these messages only to members of his circle of friends, or allow its access to all users which is the default setting. An example of micro-blogging site is Twitter.com.
The Differences Between Blogging And Micro-Blogging Sites
1. As mentioned above, a blog and a microblog have a big immediate difference and that is the number of characters allowed to communicate. As a blogger you generally have no limit while as a microblogger you are usually rectricted to 140 to 150 words.
2. There is a great deal of difference between your writing style as a blogger and a microblogger, which in turn dictates the convenience offered to convey an idea to the readers.
3. A blogging site updates at the discretion of the blogger while a microblogging site keeps updating minute by minute.
4. Blogging sites are not as active as a microblogging site. A new blog might appear after a long interval that depends on the users convenience, however a microblogging site is much more active with new posts appearing within seconds.
5. Another basic difference is the philosophy behind the development of both the sites. A blogging site is not meant to keep the user and his friends updated about the day to day activities of the user and vice versa while micro-blogging sites aim t do exactly that.
Mastery of these new ways of communication is not easy, but when you create a familiarity with them, you begin to identify the benefits of each
It is a new and enriching experience, both personal and professional, so waste no time in entering the world of blogging and microblogging and benefit from the limitless advantages that they have to offer.
Be cautious not to get addicted to the extent that they start hampering your normal lifestyle.
👩‍💼 Free Personal Branding Email Course
Signup
👩‍💼 Free Personal Branding Email Course
Go from Unknown to Well-Known! Get my eBook 'Be The Expert' + a Free Personal Branding Worksheet.
100% privacy. I will never spam you.
100% privacy. I will never spam you.