Do bloggers make money?
Can you make money blogging?
Can I make money blogging?
How do you make money blogging for beginners?
How long does it take to make money blogging?
How do bloggers get paid to blog?
Which is the best blogging platform to make money?
These are some of the most common questions newbie bloggers ask about blogging for money. So how do bloggers make money?
There are many ways to make money blogging such as with ad networks, blogger Adsense earnings, affiliate marketing, sponsored posts, selling online courses, coaching programs or services, creating membership websites and more.
These courses and resources will show you how to start a blog and make money. Through examples of top-earning blogs, you'll learn how to monetize blogs and earn money blogging.
Free Blogging Courses & Tutorials
This free WordPress tutorial for beginners will help you learn WordPress free. Here's what you get with this WordPress tutorial step-by-step online course:
✔ WordPress Tutorial For Beginners PDF
✔ WordPress Video Tutorials For Beginners
✔ Blogging Resources Cheat Sheet
✔ Creating Brand YOU eBook PDF – updated for 2021
✔ Be The Expert eBook PDF
✔ Printable Personal Branding Worksheet PDF
✔ Book Writing & Book Promotion Resources PDF
Get WordPress set up videos in this WordPress tutorial step-by-step online course.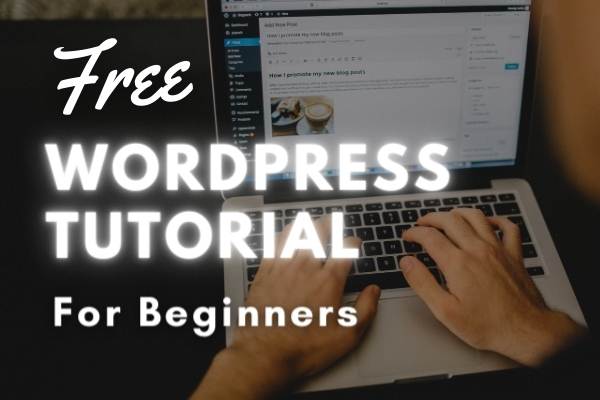 .
Free Content Creation Courses
Join John Morrow in this free webinar, on how to become a Highly Paid Writer, and learn the new way to make six figures as a freelance writer, working from home whenever it suits your schedule.
You'll learn exactly how to get started as a highly paid freelance writer, even if you're a beginner with no portfolio. In this Webinar, he covers the skills clients expect you to have, where to get your first glance, how to build your credibility – all kinds of good stuff.
Also, sign up for The Highly Paid Freelance Writer and see how to earn 10X more than other writers, even in this economy.
Can you really make a living as a Podcasting virtual assistant? Become a Podcast VA with Podcast Production School and learn everything you need to know to help business owners launch, manage and grow a successful podcast! Master the skills and strategies needed to launch, manage and grow podcasts for small businesses.
Discover the most popular services you can offer along with a proprietary production and launch checklist – a list of the top podcast skills that businesses need help with and a custom podcast production and launch checklist so you can launch with a boom (instead of a fizzle).
Starting a podcast is easy with John Lee Dumas' Free Podcast Masterclass. The lessons he shares in his Podcast Masterclass come from years of hosting a top-ranked podcast and he's packaged them together for you in 1-hour of awesomeness!
John Lee Dumas will teach you how to create and launch your podcast! John is the host of Entrepreneurs on Fire, an award-winning podcast where he interviews the world's most inspiring Entrepreneurs.
Online courses are one of the top ways to earn money online with the expertise you already have. In this free, 40-minute quick start guide to selling your knowledge online with Teachable, you'll get the tools and knowledge you need to earn money sharing what you love.
This training video is the best introduction to everything Teachable has to offer. In this 40-minute recorded workshop, you'll learn how creating an online course can change your life.
Also, watch this free Teachable webinar, 7 Steps To Launch Your Own Profitable Online Course, and earn the easiest way to create your own online school and set up your first course using Teachable (without any of the technical headaches).
When traffic numbers aren't quite where we want them, it's easy to default to thinking we need to produce more content. More content = more traffic, right? Maybe. But also… maybe not.
In this free food blogging workshop, you'll learn how to:
• Increase your blog's traffic without creating any new blog posts
• Identify the posts on your blog that have the biggest opportunities to increase your revenue
• Supercharge your content for your existing and potential audience
• Simplify the process of updating existing posts
Sign up for the Food Blogger Pro workshop
How To Make Money Blogging For Beginners
Alex and Lauren, are expert bloggers whose blogger earnings run into millions of dollars a year. In their amazing Create And Go Blogging Courses, they'll show you how to earn money through blogging.
Their Pro Blogger Bundle is the BEST DEAL — offering over 40% off the total course price when you buy the package deal (all three courses in one doubly discounted bundle)!
Learn how to make money blogging for beginners. Build, launch and make money with your first blog, including designing your blog with a theme, writing articles, building your email list, getting visitors to your blog, and learning how to make your first $1,000 and beyond with your blog!
Learn the secrets of six-figure bloggers and how do bloggers earn money in the millions. In this course, you'll learn how to create your own digital products and services  (eBooks and courses), create sales funnels to sell your products, create high-converting sales pages, and everything you need to know to take your blog to six figures.
This package is a bundle of all three signature blogging courses outlined above at a huge discount! It includes all of the steps that you need to go from building and launching your blog to earning six figures with your blog!
Blog Content Writing Masterclass
The Creating Content for Blog Traffic Masterclass walks you through the type of blog you can have and the type of content you should create. This Masterclass includes a writing process for creating content that's optimized for your audience and for blog traffic.
Learn how to source a blog topic, compare blog topics and optimize the blog topic for keywords and traffic. You'll also learn the key fundamentals to understanding your audience, how different types of blogs create content, how to change your content to fit your audience, and how to create a targeted incentive freebie to build your email list.
Get the Create Content for Blog Traffic Masterclass!
Take the content writing certification program, follow the directions, pass our certification exam, and I guarantee you will get your first paid writing client in 60 days or less.
Getting this Content Marketing Certification will provide you with a ton of flexibility and options in your career and your life. You can continue building up clients in your free time, and eventually, transition to become a full-time freelance content writer or even start your own content marketing agency.
Then you'll be able to live a freelance lifestyle while working from anywhere in the world. All you'll need is a laptop and an internet connection. Or you can use your new experience and connections to land a high-paid new gig as a content marketer.
You can use freelance content writing as a stepping stone to get paid while you learn how to start your own blog. Most people do this backwards by starting their blog first and then trying to learn how to make it successful. Meanwhile, they end up working really hard without making any money or gaining any traction.
But if you spend some time as a freelance content writer first, you can get PAID to learn – and then, when you're ready, you'll be much better equipped to start that blog and find success much, much faster.
With the right traffic and the right strategy, it's possible to rank in Google – without even trying. Successful blogs put in place a strong foundation of certain elements that help them get on the map, collaborate with influencers and get noticed quickly. The course gives you those elements and shows you how to use them strategically.
Ready Set Blog for Traffic gives you a step-by-step plan on what you need to set up your blog for targeted traffic, how to market your posts on Pinterest and how to write those damn good posts to attract and convert bloggers. The course breaks everything down so that your Pinterest profile gets the authority it deserves, followers it needs and the traffic for your blog.
Get Ready Set Blog for Traffic now!
Want Google traffic that actually converts and makes money? Get the ultimate blueprint for turning your blog into an SEO traffic machine that brings in thousands of consistent, reliable, and profitable visitors!
SEO seems pretty technical, and it can be scary to try to learn something totally foreign to you. But SEO is about getting the little things right. Understanding SEO all the way through to its core and putting yourself in the right mindset for success is KEY.
You'll learn how to figure out what successful bloggers are doing right so that you can create the best content out there – content that ranks, that converts into more money, and that your readers will go crazy for. You will learn exactly how to audit your content and your site and figure out exactly how to take your results from good to GREAT.
You'll also learn exactly what to look for in writers and other employees and how to create a system for building and scaling your business in a way that sets no limits. It's a fact that most people ranking now are only ranking because they've been there for a while. The longer you've been on top, the more likely you are to stay there.
SEO is very much a game where starting TODAY is the best thing you can do for yourself. So get the SEO Blueprint for Bloggers from some of the most successful bloggers in the business!
Make Money With Ad & Affiliate Networks
Ad & Affiliate Networks
Ad networks allow you to earn money by from ads or links on your blog. Here are some ad networks and affiliate program networks to monetize your blog.
A monetization platform with an anti-fraud system that lets website owners earn ~$50+ /day by placing contextual ads on their sites.
A content marketing platform that takes communication between marketers and website owners to a whole new level.
Infolinks works in a way so that views and clicks count towards your earnings. When visitors engage with your Infolinks ads, you earn.
A full and self-service advertising network providing comprehensive and industry-leading ad-serving and optimization technologies for online marketers and web publishers.
An affiliate marketing platform that bundles reliable & income-generating programs for you to get an extra profit.
Drive more traffic to your online store using performance-based marketing.
Make Money Taking Surveys
There are many companies that will help you earn money with paid survey jobs but Respondent is a paid survey company that pays you for sharing valuable insights that help shape world-class products.
Click here to sign up free and earn money with paid surveys.
Make Money With Online Courses & Coaching
Teachable is the world's most user-friendly and powerful online course creation platform. You can easily create an online course or coaching business with this powerful yet simple all-in-one platform.
Start now and turn your knowledge into a profitable online course or host online coaching and earn a full-time income on the platform used by the world's best online teachers to reach millions of students worldwide.
Create a beautiful online school that 100% matches your brand by adding your own logo, images, colours, and page elements with our easy to use page editor, even if you zero technical skills and you're just getting started.
With Teachable's easy-to-use online course creation platform, you can create courses without ever having to worry about tech, hosting, design, or marketing integrations. Upload videos, audio, presentations, images, and text. Effortlessly create quizzes and start discussion forums.
Join more than 100K+ instructors who used Teachable to make over $1 billion in sales by focusing 100% of their effort on creating and promoting their amazing courses, and letting Teachable take care of the rest.
WebinarJam's cloud-based broadcasting technology allows you to reach up to 5000 people in one presentation without breaking a sweat (or breaking the bank). If you have an audience, they can deliver your message solo or host a roundtable of experts to collaborate and share their knowledge on screen.
No more pixelated images. No more choppy frame rates. All you need is a stable internet connection and an average home computer, and WebinarJam will take care of the technology to make it all silky smooth.
Whether you're broadcasting your webcam, your screen share, a PowerPoint presentation or anything in between, WebinarJam will do it in superb high definition from all devices.
WebinarNinja's all-in-one platform is all in the cloud. Your attendees can join your webinar with any web browser, on a desktop or any mobile device. There is no need for them to download or install any software. It couldn't be faster or easier for them to attend your webinars.
WebinarNinja gives you everything you need to run your webinars and even offers Live, Automated, Hybrid, Series or Summits and have excellent packages for beginners.
Create and deliver your Group Coaching Programs with ease with Group Coaching Genie. Get everything you need to simplify your group coaching experience, create better results, and maximize client re-enrollment.
Group coaching is one of the best ways to serve more clients in less time. But without the right tools, however, it's easy to get overwhelmed and get lost in the details of managing your coaching groups.
Group Coaching Genie allows you to easily create your group programs and deliver them to clients with a click of a button. With this tool, you can spend less time managing your programs and do more of what you love.
With Group Coaching Genie, your clients will feel seen, supported, and accountable. They can receive support from you, as well as from other members of the group, which is all easily done right inside this platform.
Your clients will stay focused, engaged, and connected during your coaching programs, and excited to participate. And if someone needs special attention, you can easily customize your content for individual group members.
Click here to watch a demo of Group Coaching Genie.
Yondo is ecommerce for video. Yondo is an all-in-one solution that allows you to easily sell videos online. It's perfect for coaches and consultants who want to sell webinars, online group classes and live 1-to-1 video consultations.
Yondo makes it easy to sell your own online video subscriptions, pay-per-view rentals and live video consultations and classes. It's your all-in-one solution for offering live online sessions and videos on demand.
Click here to try it for FREE.
How To Make Money With Sponsored Posts
Many bloggers and online influencers skip over sponsored posts. They either think it's too hard, that it's a waste of time, that they will turn followers away, or that their followers just won't be interested.
However, if you're not earning money through sponsored posts, then you are leaving money on the table. In my experience, sponsored posts are the easiest way to make money blogging – even easier and more lucrative than ads.
Michelle earns over $10,000 a month through sponsored posts, and she shares all of her best tips in this course. In this course, there are 5 modules, over 20 lessons, bonuses, an extremely helpful exclusive Facebook group, and more, and she goes through everything when it comes to sponsored posts such as:
What are sponsored posts and how they work
Why sponsored posts are a fantastic source of blogging income
How to pitch brands
How to build trust and not lose followers
Required disclosures that you need to know about
Click here to start making money from Sponsored Posts
The only lawyer approved contract template you need to easily collaborate with brands to produce sponsored content (blog posts, social media posts or video) to build lasting relationships. This contract template includes all the terms you need to protect yourself legally and financially.
Sponsored posts are paid opportunities for you as a blogger, influencer, freelancer or affiliate marketer. It is a form of advertisement where brands collaborate with you and pay you to write a blog post, post on your social media, create a video, etc.
They are a great way to make money while sharing the products and services you love with your audience, but just like any partnership, you need to enter into a written Sponsored Posts Contract BEFORE you start partnering with brands.
This is a VERY important legal contract you NEED when you are ready to work with brands to produce sponsored content for them. It could be where you are getting paid to:
write blog posts
post on Facebook
post on Instagram
host a Twitter Party
do Facebook lives
create a video for the brand's products or services, etc.
Basically, any time you collaborate with brands as an Influencer and are ready to do sponsored work for them, get them to sign this contract so both you and the brand know exactly what is expected of each other and you have all the key legal provisions to back you up in case something goes wrong.
Often, bloggers will work for days to write a sponsored blog post and not get paid by the brand or face confusion over how payment will be received. Without this legally binding contract, you're out of luck if the brand decides to NOT pay you for your sponsored work on time or forgets to pay you at all.
Flyout is a free, simple way to earn money by placing sponsored content on your blog. Getting started with Flyout takes literally 30 seconds. All you have to do is follow a 3 step process and mention all basic details such as blog URL, the price per sponsored post and so on.
Choose what kind of content you would want to get published on your blog by advertisers. Block sponsored posts you don't like, customize what kind of sponsored content you would want to publish or restrict.
Advertisers filter through the blogs and place an order in a real-time if your blog meets the criteria. More blogs mean more opportunities for revenue. Flyout handles the process of billing the advertisers, you can see all earnings on your Flyout dashboard.
Make money writing your blog with no annoying advertising. Place quality blog posts from buyers with Adsy Guest Posting Service.
Get unique and relevant content from buyers for free, reliable and regular payouts, great remuneration for your work, quality support and growth of your website position in search engines.
With Adsy Guest Posting Service, you have control over prices for your services and what kind of content to create and place and can add transparency and sponsorship disclosure.
Boost your website revenues with Editorial.ai guest posting service. If you're a website owner looking to boost your website income and find a new revenue stream, list your website here and start earning income from sponsored posts right away.
Side Hustles: Make Money Selling Services
Learn how to get paid to blog, whether you're writing for clients and for your own blog. This course is a step-by-step guide to blog writing for businesses and is ideal for those who want to become freelance bloggers and write blogs for clients.
You'll learn about blogging as a marketing strategy, how to write conversational blog posts for east reading, how to find blog topics that rank easily, how to generate the perfect headline and CTA for your clients, how to fix your writing for better engagement, learn about freelance blogging rates and more.
In the Write Your Way to Your First $1k™ course, you'll learn the exact blueprint on setting up your freelance writing business and the exact tools and strategies you need to attract clients, land clients and retain clients.
Learn how to become a well-paid writer in just a few short weeks. Have the freedom to choose the clients you want to work with, pick the writing gigs that interest you the most and scale your business to make even more money in less time.
There's a better way to make a living from writing, and you don't need experience or a degree. Finally, get paid for your writing. You don't have to compete for jobs against hundreds of people and in the end, earn pennies for your hard work.
Know where to find high-paying clients. No more hustling ten hours a day and no more sending pitches that go straight to the trash and never see the light of day again.
Join the students who have taken this course and have been published on Smart Blogger, Huffington Post, Time Warner, About.com, The Write Life, Red Bull, CBR and more.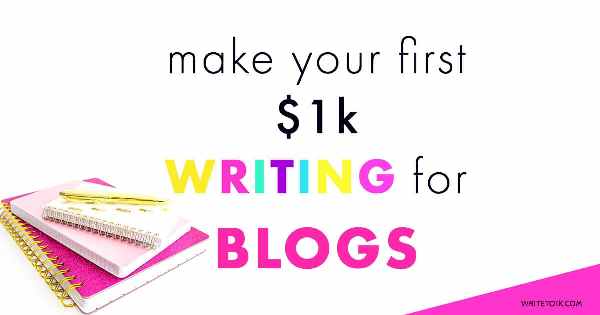 Attend the free training, Breaking Into Virtual Assistant Work – 3 Simple Principles You Need to Become a Kickass VA!
In this FREE training, Gina Horkey will teach you the three simple steps that took her (and thousands of her students!) from newbie status to finding success as a Virtual Assistant. You'll learn:
✔ What a VA is and why NOW is the best time to get started working as one
✔ How to decide if being a VA is right for you
✔ The three most critical steps you can take to get paying clients ASAP
✔ How to keep your VA business growing
✔ Where you can get support to help you on your journey
Download the 275+ services you can offer as a virtual assistant plus the skills inventory process you can use to identify the valuable skills and abilities that you already possess and can market to clients.
You'll also receive a self-assessment workbook that will help you decide what virtual assistant services you plan to offer clients, so you can start looking for opportunities to earn today and some amazing student success stories that'll leave you inspired and motivated.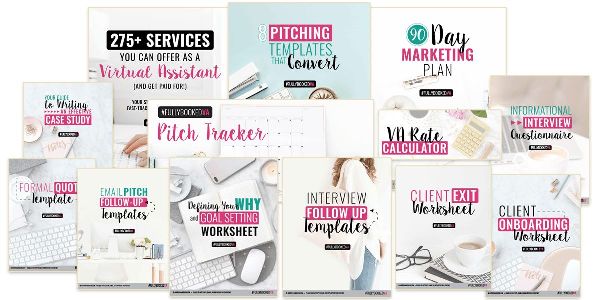 Ready to dip your toe and figure out if you have what it takes to become a kickass Virtual Assistant? Enrol in the mini-course, Jumpstart Your Virtual Assistant Business (in 4 quick steps) and get a simple step-by-step approach to help you figure out if being a VA is right for you!
You'll walk away with a basic understanding of what it takes to get a virtual assistant business up and running and we'll give you a preview of the teaching methods we've used to help countless numbers of students become successful VAs!
If you want to start your freelance writing career and are looking for content writing courses online, Gina Horkey's Freelance Writing Biz Course is one of the best online writing courses that helps new and aspiring freelance writers start and grow a freelance writing business from scratch.
Struggling to find your writing niche? Grab your free copy of these Free Freelance Writing Worksheets and learn more about their freelance writing course.

Start a new side business as a Pinterest Virtual Assistant. This highly coveted niche is in demand by bloggers and business owners alike.
The Become a Pinterest VA TODAY course will teach you exactly what you need to know to launch your Pinterest virtual assistant biz from scratch. Imagine spending a few hours per week and earning a monthly income of $500-$1,000+.
Sign up for a Free Training Workshop: How to Become a Pinterest Virtual Assistant and Land Your First Client
Food bloggers and pet bloggers, did you know that the top 6 dog-treat brands in the US generate over 2.5 billion in annual sales? And that doesn't include the boutique or local brands that have become increasingly popular with discerning dog owners.
The truth is, starting a dog treat bakery is super fun and pretty simple when you have a step by step plan and support from someone who has successfully done it before.
Whether your goal is to generate an extra $500 – $1,000+ month or build a 5-figure recurring revenue business, Diva Dog Bakery™ will teach you exactly what you need to know to break into this lucrative market.
The Diva Dog Bakery™ – How to Start a Dog Treat Business course teaches students how to start a homemade dog treat bakery and sell treats in person or online. This side hustle is for people of all ages and backgrounds and can bring in $500 – $1,000+ per month.
This step-by-step course will teach you everything you need to know about launching your own dog treat business so you can generate an extra $500 – $1,000+ per month doing what you love. This brand NEW side hustle course launches Tuesday, November 10th – Friday, November 13th!
Signup for the free workshop now and learn about how to start a dog treat bakery.
Get Instagram growth hacking and Instagram influencer courses to help you learn Instagram marketing for small business and start building a brand on Instagram.
These Facebook and Instagram marketing courses will teach you Instagram marketing tips, how to grow Instagram followers, Instagram marketing strategy, social media tips for Instagram marketing bio and Instagram marketing stories to help you use Instagram marketing for business growth.
More resources:
Learn WordPress For Beginners Free
Free Blogging For Beginners Course + Blogging Cheat Sheet + Personal Branding eBooks