These graphic design tools make it easy for even an amateur to create beautiful designs like a pro without a steep learning curve. Many of them are free to use.
Video Creation Courses
Viddyoze presents 'Fade To Black', the insider secrets to what has helped them generate more than $20,000,000 in online sales. These are the methods, tactics and hacks that have helped Viddyoze create multi-million dollar videos.
In the Fade To Black course, you'll learn the skills and methods required to create exceptional, profitable video content for the rest of your professional careers, without having to ever rely on software.
Fade To Black teaches the fundamentals of creating content that excites, persuades and engages viewers. To do that, you'll need the in-depth knowledge required for creating professional-level video content.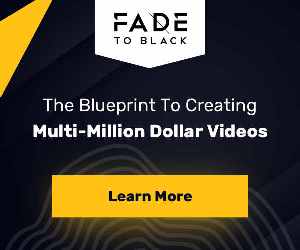 This
80+ video course
covers the complete cycle of video creation as well as the proven, repeatable method of creating highly persuasive video scripts. You'll be able to apply this knowledge to any video you ever create, ensuring the best most profitable result for every frame of video they shoot.
You can use your video creation software at a much better level once you've learned these insider secrets and discover a proven system behind creating "money" videos.
Free And Paid Graphic Design Tools
Canva is a graphic design platform that allows users to create social media graphics, presentations, posters and other visual content. It is available on web and mobile and integrates millions of images, fonts, templates and illustrations.
Use Canva's drag-and-drop feature and layouts to create beautiful designs with your team, share and print business cards, logos, presentations and more.
Choose from many professionally designed templates, and edit the designs and upload their own photos through a drag and drop interface. Sign up free now.
DesignEvo is a free online logo maker with 10,000+ templates that anyone can use to bring to life a compelling, unique logo in minutes.
Speed up your creative process to make striking graphic designs for your business, event, social media, and more.
Access thousands of professionally designed templates that help you easily create infographics, presentations, posters, flyers, social media graphics, and more resources to boost your creativity.
Create designs that stand out from the crowd in minutes at no cost. Simple yet powerful editing tools enable you to customize your design as the way you want. Sign up free.
Glorify Pro
Create graphics for your ecommerce store. Glorify helps you create stunning and captivating product images, lifestyle images, comparison images, EBC images, marketing materials and much more.
By using beautifully crafted images that actually grab people's attention, not only will you increase sales but also your brand's perceived value. Meaning you can start charging more for your products and sell more at the same time.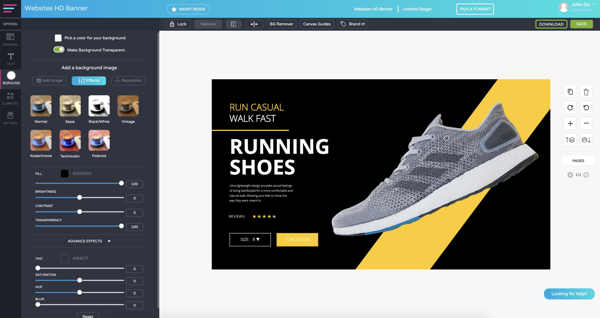 Are you selling on Amazon, Shopify, Woocommerce or any other online platform? Use Glorify's designs to lure new customers into your online store.
Online Video Creation Software
Create breathtaking animations in 3 clicks with the world's easiest full-auto video animation software. Viddyoze is only fully-automated video animation maker for marketers and businesses.
Whether you want to make your own business look like it belongs in the Fortune 500, or you want to sell animations to clients for the best hourly rate you've ever earned now, Viddyoze can make it happen.
Viddyoze offers studio-grade intros, outros, CTAs, logo stings, social actions, and pure live-action magic, all done in the cloud, so you can create from anywhere. No previous marketing or design experience needed.
Access over 170+ professional templates. Customize animations to match your brand in seconds. Say goodbye to expensive contractors and unreliable freelancers. 100% Cloud-based. No software to install. Easy access whenever you need it.
Creative Cloud gives you the world's best apps and services for video, design, photography, and the web. It's easy to get started with built-in tutorials and templates. Whether you're a beginner or a pro, you have everything you need to go from dreaming to doing, wherever you're inspired.
Creative Cloud has the design tools to bring your ideas to life, with apps for everything from image compositing and photo editing to website design, digital painting, 3D, and augmented reality. Create logos, posters, ads, packaging, and more. Paint, draw and sketch with digital brushes that work just like the real thing.
Turn your brightest ideas into beautiful experiences with our family of web and UX design tools. Build modern, responsive web pages with or without coding. Design and prototype for websites, mobile apps, and the next generation of experiences — from voice-powered devices to wearables.
Save over 60% on the entire collection of Creative Cloud apps. Just US$19.99/mo.
A compelling video can absolutely influence buying behaviour, leading directly to sales. Videos on social media platforms generate more likes and shares than images and text combined.
FlexClip is a simple yet powerful video maker that creates marketing videos and family stories in minutes. Meet all your needs in creating professional videos for business and occasions.
FlexClip's easy-to-understand interface allows everyone to create videos in minutes with no video design experience required! By choosing from a handpicked collection of text animations, you can achieve a far more appealing video.
Search millions of high-resolution photos, and royalty-free videos & audios from FlexClip's vast media library to create a highly original video. Get stunning video templates to boost your creativity, whether you want to create a business video or a personal video story.
Get a special 30% off discount when you use the code: BLOGBRANDZ
93% of businesses using video report it's landed them a new customer. Drive customers to your website with videos about products, services, or content. Stand out in the social feed. Video gets more likes and shares than other content and a majority of consumers say that video has influenced their decision to buy.
Create marketing videos in 3 easy steps. Animoto's drag-and-drop video maker makes it easy to create impressive videos with music in minutes. The easy drag-and-drop interface lets you simply drag and drop your own photos and video clips into pre-built templates to create share-worthy videos in minutes. No video editing experience needed!