Updated: 23rd June 2019
Want the best search engine optimization (SEO) tips for bloggers? Optimize your WordPress blog for Google with these always-updated SEO tips for blogs.
Blogging software is really a simple Content Management System (CMS) that easily adds new pages and integrates them into your site's navigational structure and linkage.
Blogs and blog posts are naturally search-engine-friendly because they are text-rich, link-rich, frequently-updated web pages that use stylesheets or CSS, and have very little extraneous HTML.
Optimizing a blog is very similar to optimizing a website, and optimizing a blog post similar to optimizing a web page. But depending on the blogging service or software you use, the results may look somewhat different.
If you follow some simple rules for search engine optimization, you can get your blog ranked for your keywords of choice in the search engine results pages.
Here are my favourite SEO tips to get your blog posts ranked for the keywords you want.
1. Use a memorable brand name for your domain
Exact Match keywords in the domain used to be one of the most important ranking factors.
Before Google released an algorithm update that lowered the rank of low-quality exact match domains if you wanted your blog to get found for the keyword "SEO" you had to get a domain with the keyword "SEO" in it.
As the Ignite Visibility blog says, while it's still possible to rank with an exact match, it doesn't increase your odds. The problem is that many exact match domains are associated with spam, which can serve as a red flag for Google.
Getting a domain name with your own name might make sense for personal branding, especially if yours is a personal blog. Otherwise, get a memorable name or be creative and make up a word of your own.
2. Optimize your permalinks
If your primary key phrase is "blog seo" make sure that the word blog, or seo, or both, appear in your blog headers (the H1 or H2 tags) as well as the title of each of your posts.
Most blogging software will take the keywords in your post title and put them into the file name of the permalink it creates.
For example, if you have a blog on Blogger and title your post "Search Engine Optimization For Blogs", Blogger will automatically create a page with your post and name the file "search-engine-optimization-for-blogs.html" or something similar.
In WordPress, it is possible to achieve the same results by selecting the "Post Name" option in the Permalinks settings as I've done for this blog here.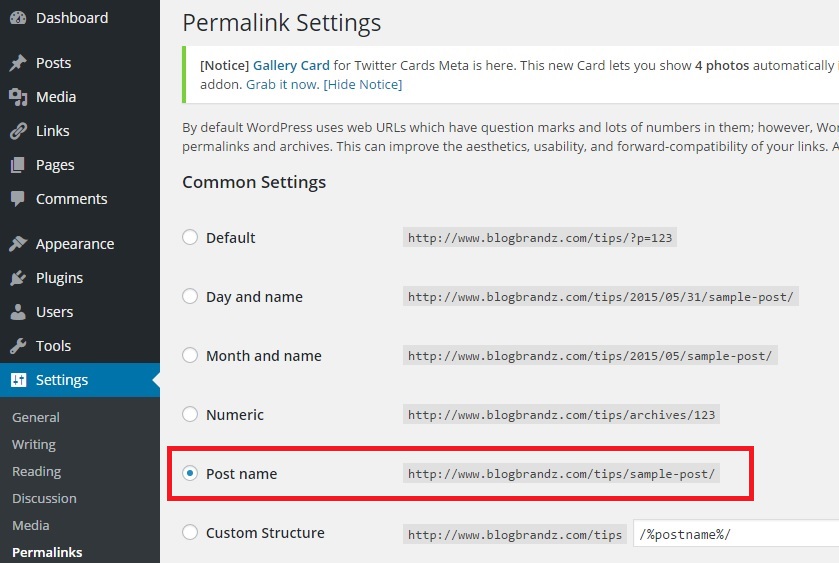 3. Use your long-tail keywords in the body of your post
If you want to get listed for long-tail keywords use them infrequently in the body of your post and pepper your blog titles or links with them as appropriate.
Don't overdo this or your posts will end up sounding unnatural and spammy to readers.
Write your blog post for your readers first and then add keywords in suitable places.
If your post is unreadable because of keyword spam, it will not be of interest to either readers or search engines.
4. Mobilize your blog
According to this article, mobile digital media time in the US is now significantly higher at 51% compared to the desktop (42%).
These statistics bear out on some of my more high-traffic blogs, where mobile users comprise over 50% of all blog readers.

With Google's recent "Mobilegeddon" update, you must ensure that your blog is easily accessible and readable on all mobile devices.
The best way to do this is by using a responsive theme that adapts your blog design to the device it is being viewed on.
WordPress has thousands of free, responsive themes available that you can download and install right now. Or, if you want to keep your theme, you can use a plugin like WP Touch, that makes your blog mobile-friendly with just a few clicks.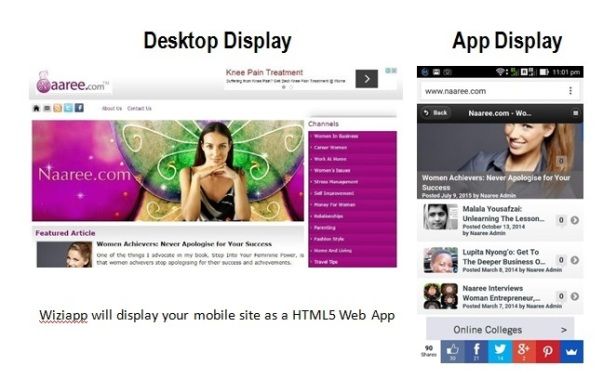 Or if you prefer, you can use a fast-loading, responsive WordPress theme like Astra to make your blog accessible to users on all devices. This is the theme I now use for this blog and many others.
In the mobile-first era, when 70% of all web traffic is mobile traffic, there's really no excuse not to make this change.
Also read: 15 Ways To Create A Great Mobile User Experience For Your Blog Readers.
5. Improve your Page Load Time
Visitors who access the internet from handheld devices strongly dislike slow-loading sites.
Page load time also impacts your conversion ratio, so improving load time is one way to boost your conversions, especially if slow page speed is interfering with your blog's user experience.
Because Google considers user experience as an important SEO factor, page speed or page load time is now considered as a ranking signal. 
Page Load Time or Page Speed refer to the amount of time it takes your page to load in your reader's browser. A number of factors, including your web host and your blog design, contribute to page load time.
Google AMP pages are designed to load pages almost instantly, and since Google's is placing a great deal of importance on speed and user experience, your page load time will definitely influence future search rankings.
However, AMP pages have less functionality, and experts like Brian Dean are not in favour of them. I use Jetpack's site accelerator to improve my site speed, load pages faster and serve images and static files from their global network of servers.
You can also use a fast-loading WordPress theme like Astra to speed up your blog. See how I use it on my travel blog.
6. Create a Google Sitemap
Set up your blog so that the side navigation bar is present on all pages. Make sure your archives and previous posts are accessible from all pages of your blog so they get spidered easily.
You can take steps to ensure that all your pages get spidered by creating a Google Sitemap that lists all the pages and posts of your blog.
WordPress has free plugins like Yoast SEO that can easily do this, but you should also submit your sitemap to Google from the Google Search Console.
Also, read: How to Install and Configure the Yoast SEO Plugin
7. Create 'epic', long-form content
If you want your content to stand out from the glut of online content and attract the kind of shares and links that boost search rankings, you've got to create epic content or "10X Content".
Most of the content that ranks in the top 10 of Google is over 2000 words in length, so you need to create long-form content.
A study jointly conducted by BuzzSumo and Moz also noted that "deep research or opinion-forming content" attracts more shares and links.
In fact, the content sweet spot for achieving both links and shares online is "authoritative, opinion shaping journalism on current topics or well researched and evidenced content"
Learn more about the kind of content that will work in the years to come.
8. Get backlinks from other blogs or websites
The best way to get backlinks from other blogs and from social media sites is to write posts that are engaging and worth sharing.
But, you can also use the methods below to build your links and boost your visibility.
Submit to Blog Directories
Submitting your blog and RSS feed to blog directories is a good way to start building high-quality links back to your blog.
Here is the best list I've found of places to submit your feed or blog. (This list was active in 2004 and, amazingly, it still is today!)
Robin Good's RSSTop55: Best Blog Directory And RSS Submission Sites
If you know of any newer resources better than this one, do share them in the comments below.
Comment on other blogs
You can also get backlinks to your blog by posting legitimate comments in response to posts on other blogs. With plugins such as CommentLuv, these backlinks are automated.
Of course, the "no follow" tag ensures that you will get little juice from such backlinks, except for getting your blog seen by other commentators.
However, you can get a decent amount of referral traffic from these links, especially with a well-written comment.
Skyscraper Technique
Brian Dean's famous Skyscraper Technique involves writing an epic piece of content and then reaching out to influencers and prominent bloggers to ask them to link to it.
The fact that it took him just 31 articles to grow his blog traffic to 90,000 visits a month shows just how well it works. If you're interested in SEO, a subscription to his blog is a must.
9. Update frequently
There's no better fodder for search engine spiders than fresh content. According to a study by Hubspot, the more blog posts companies published per month, the more traffic they saw on their website.
They also found that companies that published 16+ blog posts per month got almost 3.5X more traffic than companies that published between 0 to 4 monthly posts.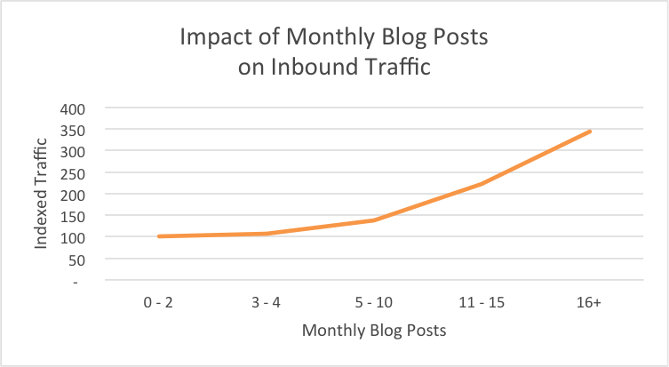 Ideally, you should test your audience's tolerance for publishing more frequently. If the rate of unsubscribes increase when you publish more often, you might want to scale it down and find a happy medium that is right for both, you and your readers.
Alternatively, you could publish fewer high-quality posts that are regularly updated to keep the information fresh and current.
Delete and redirect what Brian Dean calls "zombie posts" (posts that don't get any traffic) in his video below and focus on updating the ones you do.
10. Stay put
Once you create your blog, stick to the same domain for as long as you continue to publish.
You could end up losing a lot of your organic traffic, your readers and all your search engine listings if you decide to move or change your domain and URLs.
If you install the SSL protocol and change your site architecture from http:// to https:// you can install one of the plugins below to force redirects.
Social shares are important because they help your blog post get discovered, so getting more shares and Retweets on social media networks is never a bad thing for your SEO efforts.
Build communities on the big three networks – Facebook, Twitter (the best networks for content sharing) and LinkedIn. If you publish content in multiple formats (images, PPT, infographics, videos, PDFs), you should expand your list of networks to include Pinterest, Slideshare, YouTube, Vine, and Visual.ly.
Engage your social community by sharing third-party content as well as your own blog content (I recommend a ratio of 80:20 for third-party versus your own content) so that your community knows that you're interested in sharing great content, and not just plugging your own.
12. Build a mailing list
This is not strictly an SEO tip, but it ensures that you get repeat traffic to your blog by capturing emails and sending out regular blog updates to your subscribers.
It also helps you become network-independent, so should your Instagram profile get deleted by mistake, you can always start fresh by sending out an email and asking your subscribers to follow your new profile.
The amount of time that visitors spend on your blog also plays a role in your ranking, because it tells Google that your blog is useful to your readers.
You can use GetResponse, or, my personal favourite, Convertkit, to capture and follow up with your subscribers. These services can be set up to send an automatic update to your subscribers every time you post on your blog.
13. Add Rich Snippets to your blog
Adding Rich Snippets to your posts and pages is more important than ever, with Google hinting it may decide to use structured data in its ranking algorithm some day.
Rich Snippets, or Schema markup, is a way of delivering information (microdata) to search engines that tells them more about your content. It gives them the information they need to display data such as star ratings, author information and more, in the search engine results pages.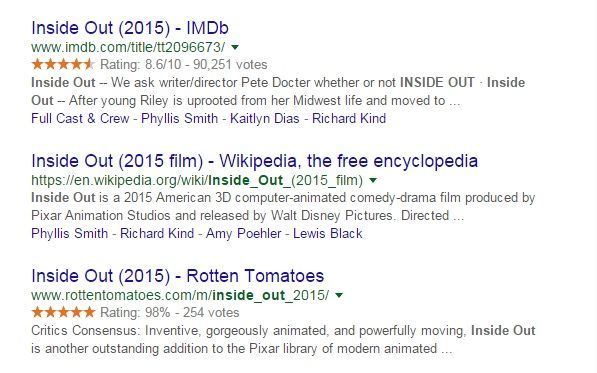 Read this article where I simplify Rich Snippets so that you can understand how and why you need to add them to your WordPress blog.
Schema Pro is a WordPress plugin that lets you set up a markup in minutes with a simple click and select interface.
14. Improve your internal linking
You can lower your bounce rate (another important ranking factor) and increase the amount of time that visitors spend on your site with internal links to previous blog posts.
The best way to do this is to manually link to these posts using the anchor text you want them to be ranked for.
However, you can also use one of these WordPress plugins to boost your internal linking automatically.
For some best practices in internal linking, read this post.
Internal Link Architecture
The links within your blog content are counted as backlinks or votes by Google. What they point to tells Google what you think are the most important pages on your site.
These internal links can act as powerful signals and you can often rank on the first page of Google just by optimising the link structure of your own internal pages.
This form of on-site architecture is often referred to as a Content Hub, a system popularised by David Trounce, an SEO Professional and the founder of Mallee Blue Media.
A Content Hub is a set of content (usually web pages) organised around a specific topic (usually a central page). It could be a category (like Excavator Transport) or a section of pages on a website.
Content hubs are the key to on page SEO and converting users who come to your site. They work because they have a structure: a wide base around a high centre.
As in the example above, one of the keys to this power structure is that your internal links only ever (usually) point in one direction, thus signalling to Google the most important keyword or internal page within a Hub – the series of articles or content all focused on a single theme.
15. Be Consistent
When it comes to building traffic, consistency is important. When your readers know that you'll be posting a new blog every week or so, they're more likely to subscribe and watch for updates.
Search engines will also spider your site more often if you post more consistently.
Post to your blog regularly, and use all the tips outlined above and there's no reason why your blog will not get top rankings for long-tail keywords.
16. Don't forget Pinterest
Pinterest is not a social network. It's a visual search engine that also requires SEO to rank higher on.
Bloggers who were early adopters of Pinterest are getting hundreds of thousands of visitors from this search engine.
Learn more about this awesome source of traffic for bloggers in the articles below and download my Pinterest 101 guide to learn how to use Pinterest the right way.
17. Blog Hygiene & Maintenance
A lot of websites tend to accumulate broken links, especially ones that were created years ago and have many links pointing out to other websites.
Having a large number of broken links on your website can adversely affect user experience and in turn, your rankings.
One of my blogs, Naaree.com, had that problem until I installed a broken link checker plugin and cleaned up all the broken links on the website. You can use the Link Checker plugin to do that.
However, it's not just links that need to be updated but old content too. Outdated content can cause your blog to rank lower in the search engines and leave your visitors with a poor impression of your website.
Keep your blog posts updated with the latest information and redirect old ones that serve no useful purpose as Brian Dean recommends in his video below.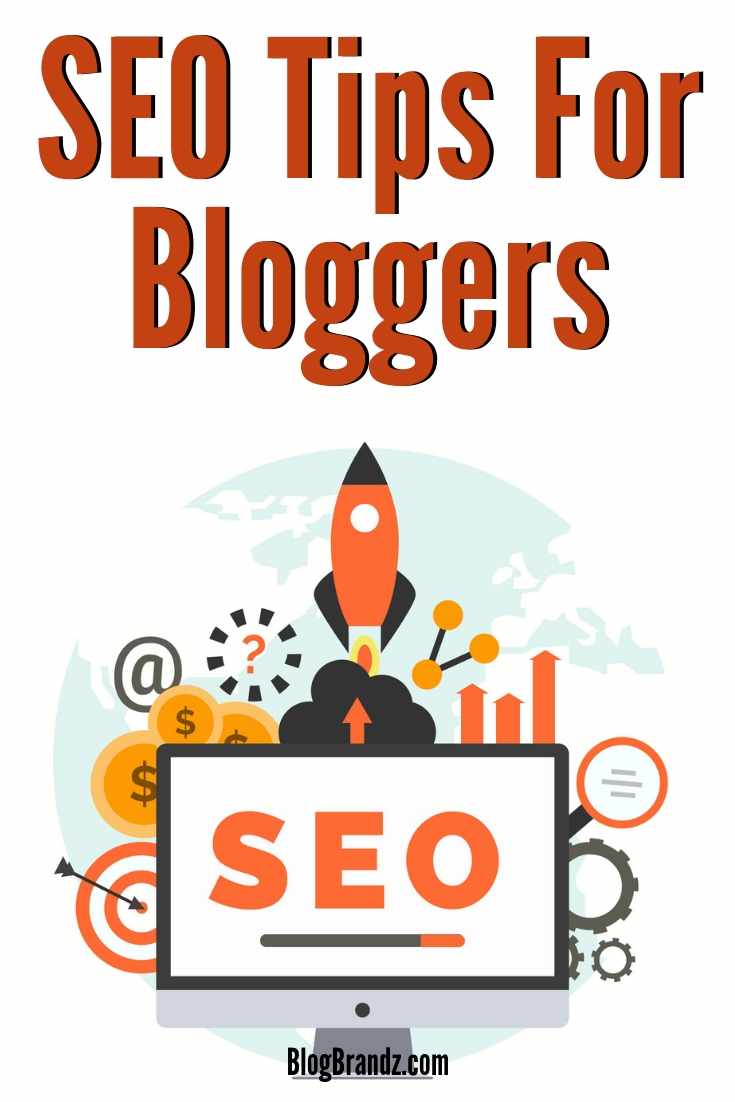 Learn how to set up a WordPress blog in a weekend. Get access to my WordPress Setup Step-By-Step Videos, How To Blog 101 PDF and Private Facebook Group.
100% privacy. I will never spam you.