Learn how to create and sell a money-making course with these online course creation tutorials and course creation tools that will help you leverage your knowledge and expertise the way the experts do it.
By 2025, the global e-learning market is expected to reach $325 billion, which means more people will be buying online courses than ever before. And with the growth of online education, creating and selling an online course is now one of the best ways of earning a passive income.
Free Course Creation Tutorials
Online courses are one of the top ways to earn money online with the expertise you already have. In this free, 40-minute quick start guide to selling your knowledge online with Teachable, you'll get the tools and knowledge you need to earn money sharing what you love.
This training video is the best introduction to everything Teachable has to offer. In this 40-minute recorded workshop, you'll learn how creating an online course can change your life.
Click here to watch this training video now
Join me at Women Create 2021, a three-day, free Teachable summit, from March 23 to 25, 2021.
Created specifically to empower, celebrate, and promote women-led business, entrepreneurship, and creativity, this 3-day, free event offers workshops and sessions around how to get your money, mindset, marketing, and more right in 2021 and beyond.
During Women Create 2021 you'll get actionable takeaways from 30+ expert speakers to help you launch, grow, and scale your online business in 2021.
You'll hear from 30+ inspiring experts and creators. They'll be covering the most urgent topics related to growing and scaling an online business through courses and coaching, with a special focus on women entrepreneurs.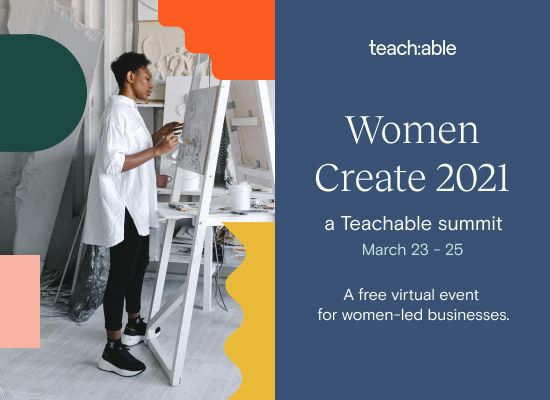 Online Course Creation Tools
A free online course can be one of the best lead-magnets. Teachable is my favourite course creation platform. Start now and turn your knowledge into a profitable online course.
Create a beautiful school that 100% matches your brand by adding your own logo, images, colours, and page elements with our easy to use page editor, even if you zero technical skills and you're just getting started.
With Teachable's easy-to-use online course creation platform, you can create courses without ever having to worry about tech, hosting, design, or marketing integrations.
Even better, you get full access to the TeachableU online training program designed to take you all the way from choosing the right course topic to launching a course with real students enrolled, in 90 days or less.
Join more than 100K+ instructors who used Teachable to make over $1 billion in sales by focusing 100% of their effort on creating and promoting their amazing courses, and letting Teachable take care of the rest.
Click here to get your 14-day free trial!
A full-featured, lightweight and easy mind mapping software, MindVisualizer is good for visually capturing and organizing your thoughts and information.
You can add file attachments, hyperlinks, rich-format notes, icons, pictures, and so on to your mind maps. Created mind maps can be exported to a wide variety of formats including Microsoft Office (Word, PowerPoint and Excel), RTF, Webpages, OpenOffice, images, and so on!