Which are the best AI writing generator tools and the best AI copywriting tools? How to use AI content generator and AI writer tools for writing AI content?
Takeaway
AI copywriting tools each have their own special uses, whether you want to use them for SEO content or marketing copy. To write SEO-optimized content, we recommend using
Jasper AI + Surfer SEO
– both of which offer free options. Alternatively,
NeuronWriter
provides SEO copywriting in a single tool. For social media and marketing copy,
Simplified
provides the best templates and features.
Sudowrite
is the best creative AI that writes stories and poems.
What is an AI writer?
An AI writer is a computer program that can generate text autonomously. The AI writing generator is fed a set of data, which it then uses to generate text, based on that data.
There are various applications for an AI that writes, including creating articles, and product descriptions, and even using an AI story generator to write stories and poems.
Some AI writer tools are more sophisticated than others and can create text that is more human-like, and even virtually indistinguishable from human-generated text, in terms of its style and grammar.
Are AI writers legit?
It depends on what you're looking for. While some people feel that AI writers are a legitimate and useful tool, others view them as being less than satisfactory.
However, it's possible that this is just a bias, as people cannot actually distinguish an article written by AI from one written by humans.
Ultimately, it all depends on your specific needs and preferences, and the reasons that you want to use AI to write content. The best way to determine whether or not AI writing generator tools are right for you is to try them out for yourself and see the results for yourself.
Personally, I find AI content generator tools an affordable and user-friendly alternative to testing new writers and hiring junior writers to write content.
But the main advantage of AI writing assistants, in my experience, is that they are time-saving tools that can save professional writers a huge amount of time and effort in writing articles fast and efficiently.
However, if you use AI to create content, you must ensure that the final content is high-quality through editorial reviews and human polishing.
This is because Google can detect super low-quality AI content and has removed many websites that use it at scale from the SERPs.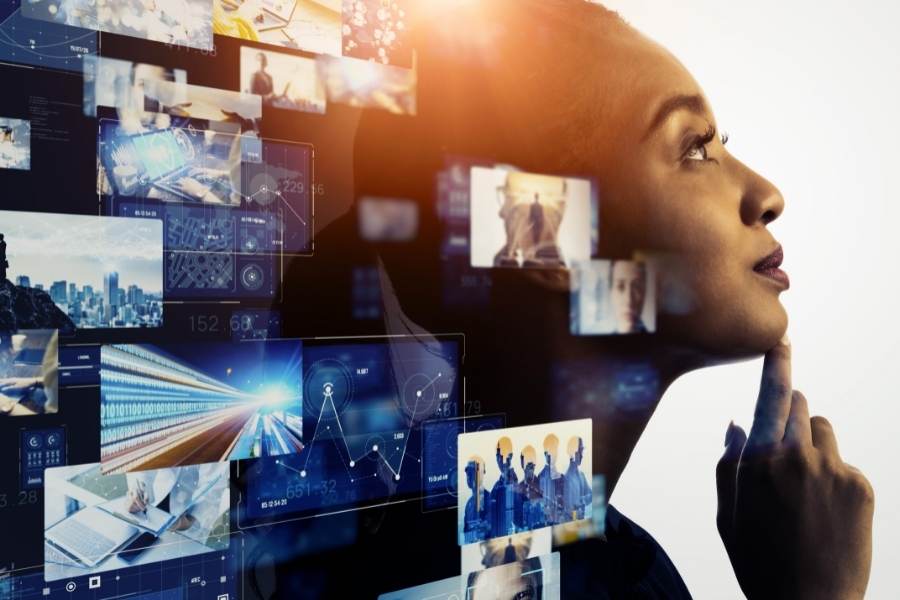 Will AI replace writers?
There's a lot of discussion about whether artificial intelligence (AI) will replace writers. So, can AI replace writers, and will AI replace content writers altogether?
Some people believe that AI writing generator tools will eventually be able to generate content that is as good, if not better, than human-generated content.
However, I think it's safe to say that AI writing technology is not yet at the point where it can replace human writers, and will not completely replace writers anytime soon.
It's more likely that AI will supplement, rather than replace human workers, and may also help to automate the writing process to some extent. For example, you could use AI to generate data, and then have a writer create a report based on that data.
As another example, you can use Surfer's free Grow Flow AI SEO automation tool to send you weekly data-driven SEO insights, personalized recommendations, and fresh article ideas, to improve your topical authority and maximize your SEO efforts.
Then you can either write the article yourself or use an AI writer tool like Jasper. Here are some reasons why AI content writing tools will not completely replace writers:
AI still cannot generate ideas or insights as well as humans can.
AI cannot create the same level of emotion and nuance in its writing as humans can.
AI can't always accurately capture the subtleties and complexities of language.
Some of the benefits of AI that help you write content include increased speed and efficiency, as well as improved accuracy, and its ability to generate SEO-optimized content, based on the analysis of huge volumes of data that would take humans many hours to analyze.
However, it's important to note that AI content generator tools cannot replicate the creativity or emotion that comes with human interaction, and a lifetime of human experience.
While AI writing tools may eventually be able to produce content that is on par with humans, it's not likely that they will completely replace writers, but instead, be used to handle tedious and laborious data-driven tasks, so we can write content faster and better.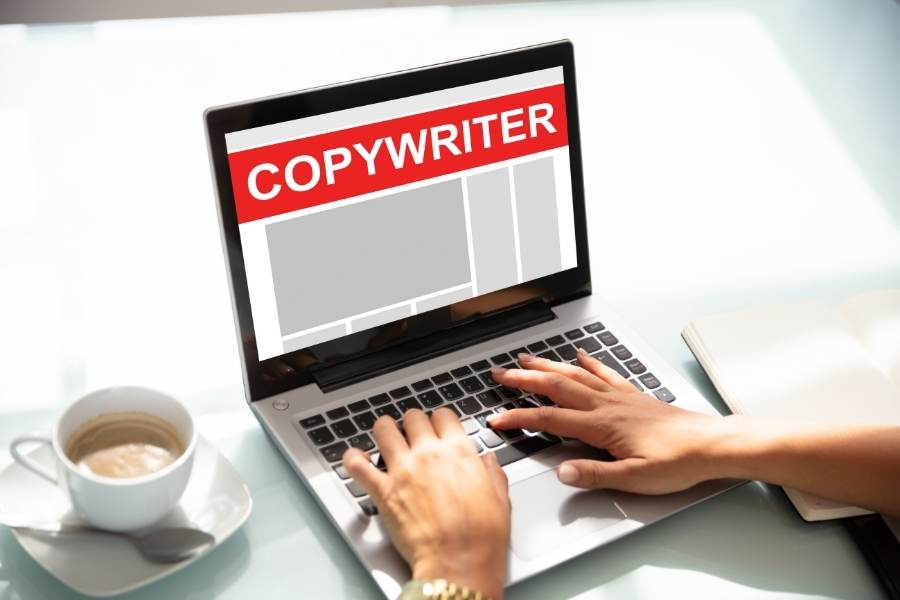 How do AI writers work?
AI writers work by analyzing large data sets to determine what words or phrases are being used most frequently in a given genre or topic.
From there, the AI writer will compile its own list of the most commonly used words and phrases, and then begin to generate original content using those terms.
Today, most of these AI writing generator tools use open-source algorithms like OpenAI's GPT-3 content writing algorithm – one of the world's biggest neural-network-powered language models – to generate text based on a set of rules.
Some AI content generators, like Article Forge, use machine learning to create tools that learn how to write by observing examples of good writing.
But whether you write with AI content writers based on GPT-3 or ML, training the best AI content writing tools to write well requires a lot of data and tweaking to create content that is both, accurate and relevant to the topics being discussed, while also sounding natural and human-written.
In other words, you need to train the AI writing software with a large amount of text, so it can learn how to write properly, and you also need to constantly test and adjust the algorithms, until the AI writing assistants produces writing that meets your standards.
The key to co-writing effectively with AI is to be very strategic about the content that you feed into the program. The right prompts and approaches will help ensure that the AI gives you the most useful text that you can edit and modify for your purposes.
AI writing is fast becoming one of the most important writing skills required for content writing today. These AI writing courses will teach you the art of writing AI content.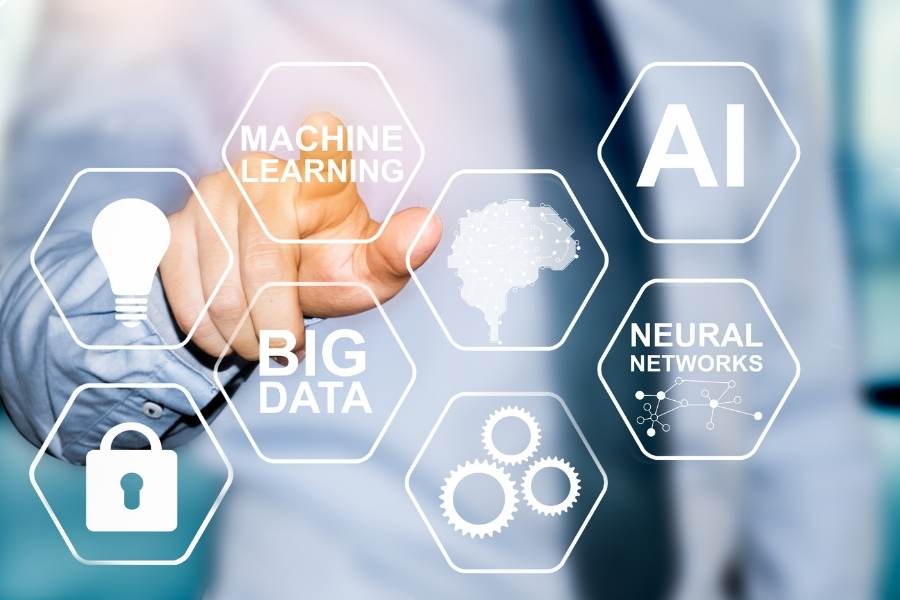 What is the best AI writer?
There is no best AI writer. Each AI application has its own strengths and weaknesses. However, some AI writers are better at certain tasks than others.
For example, some AI writing generator tools are better at writing SEO content, while AI essay generators may be better at writing persuasive essays.
Some AI article writers may be better at writing news articles or technical documents, while others may be better at rewriting or paraphrasing content.
When you choose an AI writer tool for a specific task, you must consider the specific needs of your project and user. What type of content do you need? What style do you want it written in? How long do you need it to be?
Other factors to consider include the type of content that needs to be written, the level of detail required, and the deadline for completing the project.
You might want to use one AI copywriting tool for writing sales and marketing copy, another AI blog writer for writing blogs, and a third AI writing tool for writing social media copy.
It also depends on your marketing budget, and whether you just want to try out an AI writer for free, or want to start using AI to write all your content.
Once you have a good idea of what you're looking for, you can narrow down your options by reading the AI writer reviews below, and then decide which AI content writing tools are best suited for your needs.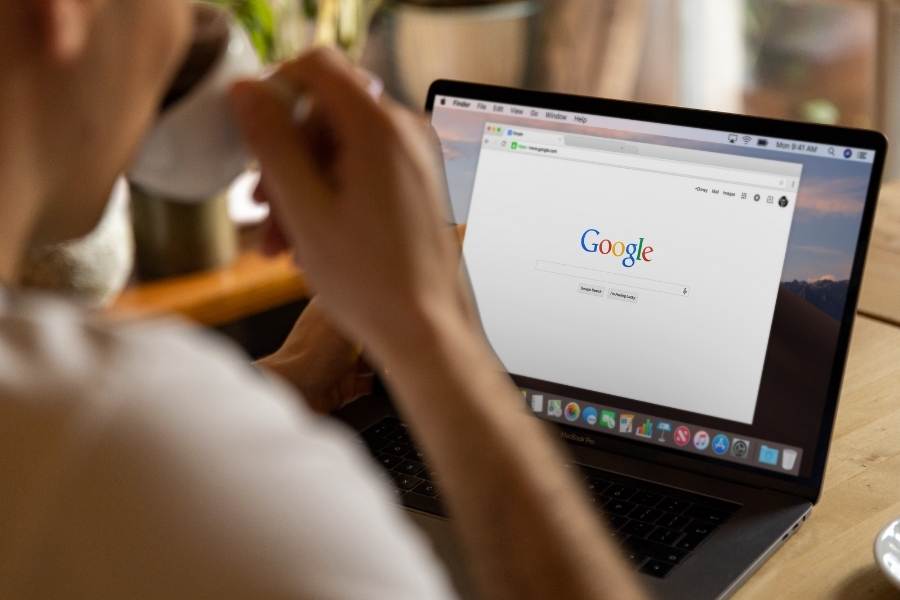 Google's "helpful content" algorithm update
The latest Google algorithm update, called the "helpful content" algorithm update, rewards sites that are "helpful" to searchers while penalizing sites that create content solely for SEO purposes.
This does not bode well for tools powered by GPT-3 AI content generator algorithms but is good for human writers.
This is because GPT-3-based AI writer tools don't do any external research. They produce articles that "look" good, but don't add substance to information that already exists online, and isn't truly helpful to your audience.
However, artificial intelligence is becoming increasingly sophisticated and there are numerous areas where AI can outperform humans. Researchers are currently evaluating this using SuperGLUE, a benchmark for judging a machine's ability to analyze language.
This benchmark is supported by Facebook, Deepmind, and a slew of other major corporations. At this time, there are six different models that outperform humans, and GPT-3 is not even in the top 20.
This is why I only use GPT-3 generated articles as a base or inspiration for writing blogs. I always bolster my writing with research, facts, and original opinions about the topic I'm writing about.
If you're interested in trying out a non-GPT-3 based AI content generator tool, you can use Article Forge. This AI content generator tool is specifically designed to generate useful content that benefits both your rankings and your readers.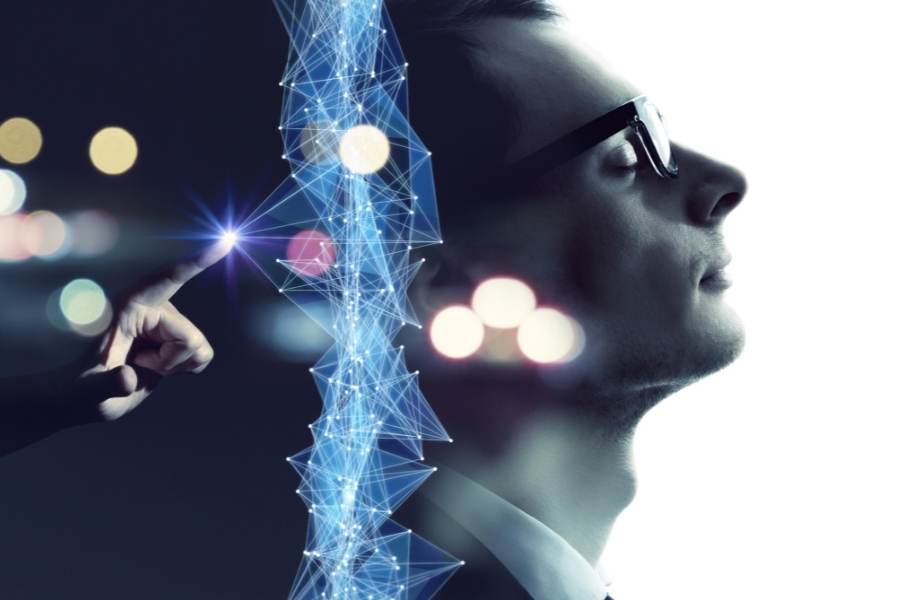 Best AI writing generator & AI copywriting tools
How do you choose the best AI writing software tools for your needs? Which AI writing generator tools are best for different writing tasks?
These AI writer reviews will help you decide which AI content generators and AI copywriting tools are best suited for your needs.
#1. Surfer (Best AI SEO writer)
🎁 Free AI writer tool: Surfer's free AI article outline generator
With Surfer SEO, you can create and optimize your content faster than ever with the #1 Content Intelligence tool that merges content strategy, creation, and optimization into one process.
Surfer's SEO algorithm incorporates semantic and correlation analysis, website rendering, and machine learning, so its recommendations are super-informed and data-driven.
This AI SEO copywriting tool takes the guesswork out of creating data-driven content for search engines and people, by applying NLP solutions, machine learning, and analysis of over 500 web signals, to generate a whole strategy that suits your domain in seconds.
The Surfer SEO content editor and Surfer keyword tool offer accurate guidelines on prominent phrases to use, which keywords to include, how often to include them, and which should be written as headers.
The Surfer content editor also notifies you if your keyword density gets too high, so you can focus your attention on writing quality content your audience will love.
This Free Surfer SEO Writing Masterclass covers a range of SEO-related topics such as search intent, NLP (natural language processing), keyword research and evaluation, and competitor analysis, to help you learn how to use this AI-writing assistant online.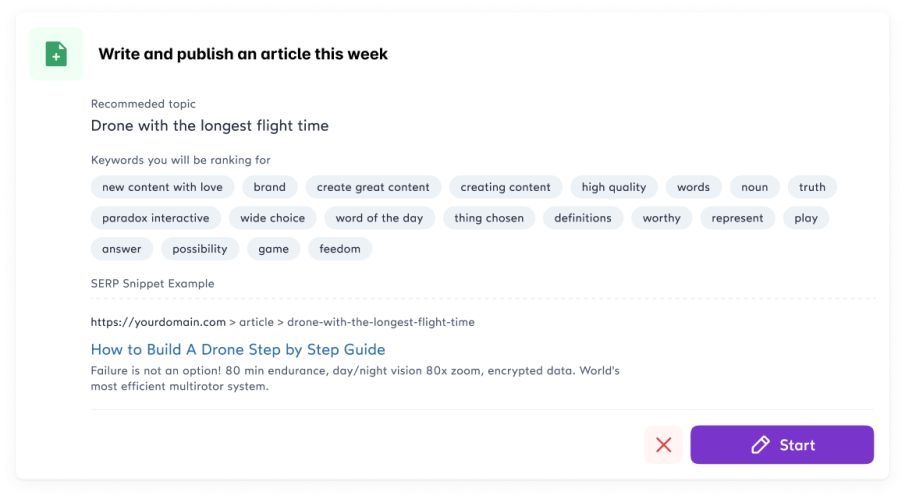 Surfer's Grow Flow AI Growth Management Platform is a free SEO automation tool that will send you weekly data-driven SEO insights, personalized recommendations, bite-sized tasks, and fresh article ideas to improve your topical authority and maximize your SEO efforts.
Use the Surfer + Semrush integration to discover which backlinks appeared in your competitors' indexes to adjust, update or improve your own link-building strategy.
You can use the Surfer AI SEO tool to help you rank higher on search engines by adding semantic keywords based on current market trends and automating building topical authority for your page based on identified content gaps and clustering methods.
Get an AI-generated article outline with unique paragraphs, in just 3 simple steps, with Surfer's Free AI Article Outline Generator. It's one of the many free resources Surfer offers its writers to save time, optimize their workflow, and improve their content.
Click here to access Surfer AI SEO writer now
#2. NeuronWriter (Best NLP-Driven AI Writing Tool)
🎁 Free AI writing option: AppSumo lifetime offer
NeuronWriter (a low-cost alternative to Surfer SEO and Frase) is an AI writing assistant that assists you in planning and optimizing your website content with user intent in mind so that Google loves it.
It comes with an advanced content editor, which includes semantic models (NLP), Google SERP analysis, and competition data to assist you in researching articles related to your niche and obtaining the content you require through simple recommendations.
After you enter the target keyword, NeuronWriter analyzes the best content from your competitors and suggests what topics to cover and what Google users are looking for.
NeuronWriter is an AI copywriting tool that examines your competitors' top-rated content, YouTube content, or preferred Google SERPs, and responds to the issues your readers are experiencing.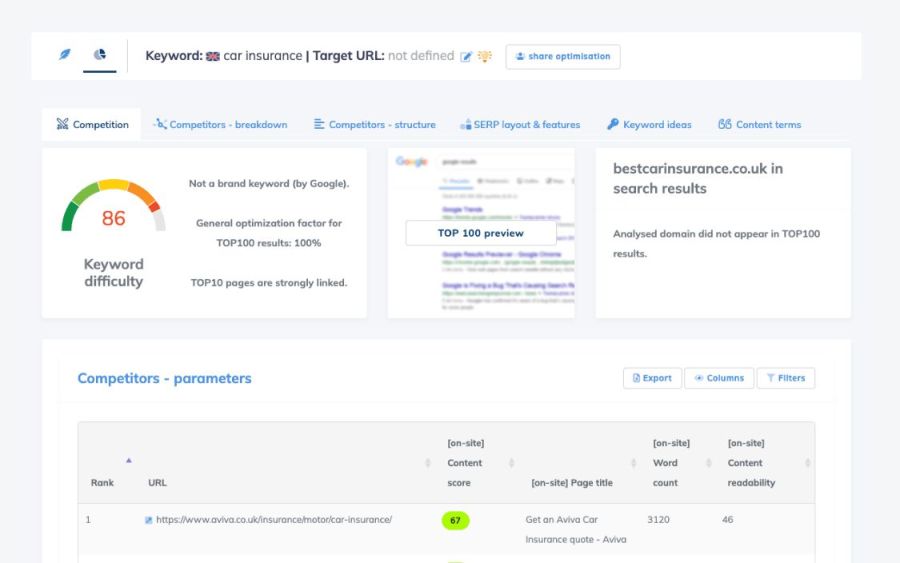 Here are some of the functions of the NeuronWriter NLP-driven AI writing tool:
Recognize user intent and the type of content required – Begin by deciding on the best page type for a specific user query. For some queries, a blog article will be required, while for others, a category description will be required.
Select direct competitors who have similar types of content – Choose competitors with high content scores to improve the quality of semantical recommendations.
Structure the document based on useful information – It's very simple to combine headers and questions into a great story in draft mode. NeuronWriter will also recommend keywords for each paragraph.
Semantic SEO can help you optimize and enrich your content – Use NLP (Natural Language Processing) and SERP-based recommendations. Add GPT-3-generated content and enjoy faster content creation and higher rankings.
Click here to try NeuronWriter for free
#3. Jasper (Best AI content generator)
🎁 Free AI writing option: Get 10,000 words free
The Jasper AI writer (formerly known as the Jarvis AI copywriting tool) is an all-in-one AI-based content creation tool that will help you write copy that converts, create content at a scale that ranks better, and even help you write a book.
You can learn how to start writing AI content at scale right away with Jasper's AI blog writer recipes that will help you write educational, original, SEO-optimized, keyword-rich, plagiarism-free blog articles and content that ranks on Google.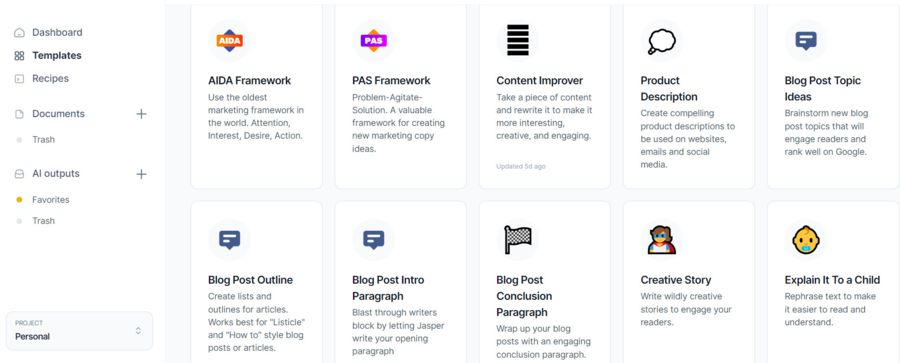 Rated 5/5 stars in over 3,000 reviews, the Jasper copywriting AI is the best AI writer tool overall because it has been trained by the world's best SEO and Direct Response Marketing experts to write original, creative content, blog articles, and social media posts, website copy, and more.
You can even finish writing a quick, authority-building non-fiction book in under 7 days with Jasper's AI Author Workflow.
Get 10,000 words to try Jasper AI writer free
#4. Rytr (Best low-cost AI writer)
🎁 Free AI writing option: Get 5000 characters per month
The Rytr AI writer is a low-cost tool that helps you create high-quality content in just a few seconds, at a fraction of the cost.
This AI-powered writing assistant can 10X your writing efficiency with its powerful, rich-text editor, that goes from raw ideas to a polished piece in no time.
The Rytr AI writing tool can create content based on a few descriptive sentences and takes just about 15 mins to write a 1,000-word piece.
It can write anything from blogs to emails to ad copies, and auto-generate catchy, original, and high-converting copy in popular tones and languages in just a few seconds.
This free AI Content Generation Course on Udemy will show you how to create articles and videos quickly and easily and produce content at a much faster pace, using the Rytr AI writing software.
Reword, shorten, and do much more to improve the content quality before hitting that submit button, with Rytr's proofreading and plagiarism checking tools.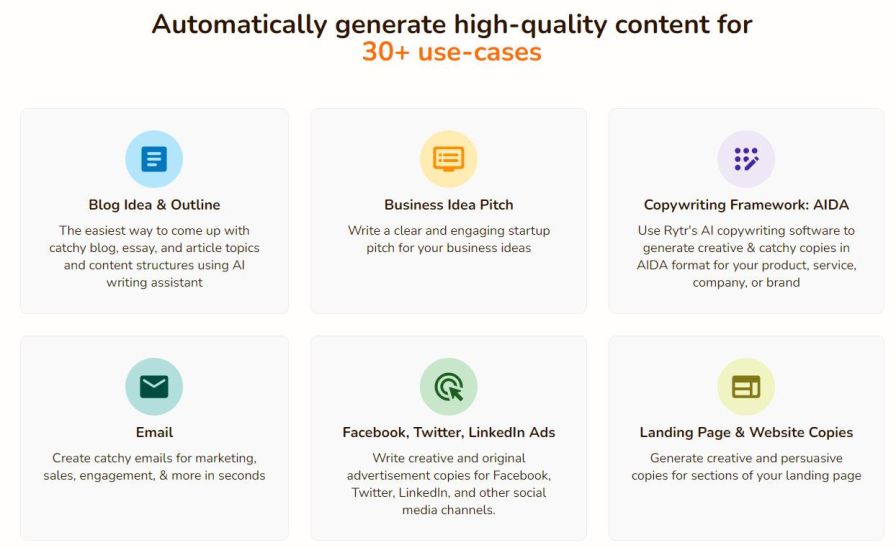 Generate 5000 characters per month on the free plan, and upgrade to a premium plan for unlimited usage — starting at $9/month.
Click here to get 5000 characters free
#5. Simplified (Best free AI writer)
🎁 Free AI writing option: Free-forever plan
Simplified is an all-in-one design platform for modern marketers, powered by AI, that provides all the content-creation tools you'll ever need, in one app.
Generate 50+ types of copy in seconds with the Simplified AI copywriter tool. Create one-of-a-kind text for videos, ads, quotes, products, blogs, articles, and more with Simplified's free content writing tools.
Simplified's free AI writer will help you generate copy that converts for business bios, Facebook ads, product descriptions, emails, landing pages, YouTube descriptions, taglines, and more with Simplified's AI content generator. Write AI copy in 10+ tones and reach broader audiences with 30+ languages.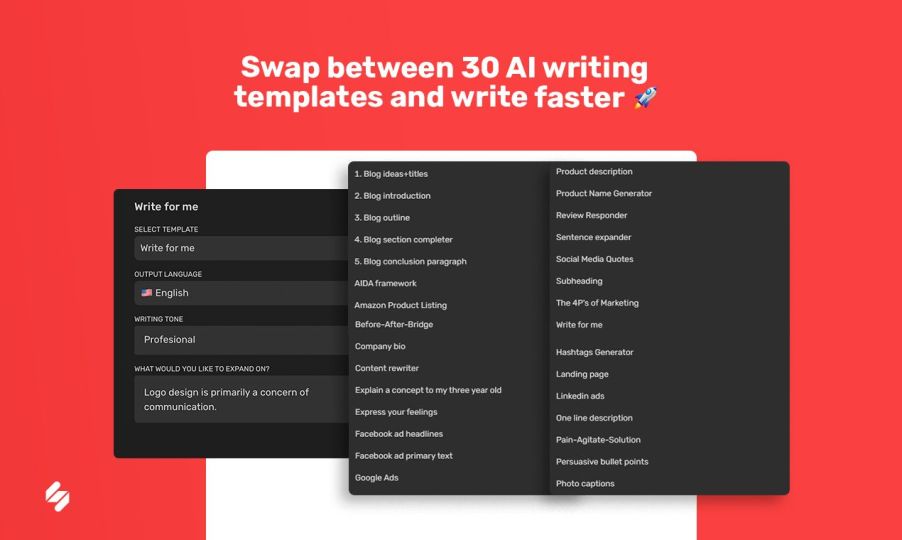 Simplified's Long Form Writer will help you write long-form content like blogs, articles, and even books. Improve your copy with the article rewriter, sentence expander, or AI paragraph generator. Use Simplified's AI writer free and forget writer's block even exists.
Click here to try Simplified's AI writer free
#6. Copymatic (Best long-form AI writer)
🎁 Free AI writing option: Get 10 credits free
Write unlimited SEO-optimized and plagiarism-free content for your blog and turn a short description into a 1,000+ word article with Copymatic's long-form AI writer software.
Generate any article elements such as titles, intros, outlines, content, or conclusions, and rewrite articles with Copymatic AI Article Rewriter – the smartest tool to rewrite articles from scratch.

Automatically write unique, engaging, and high-quality copy or content: from long-form blog posts or landing pages to digital ads in seconds.
Click here to get 10 credits free
#7. QuillBot (Best paraphraser & AI essay writer tool)
🎁 Free AI writing options: Free grammar check & citation tools, 125-word paraphrasing limit
The QuillBot paragraph writing tools include some AI writer essay tools and scientific writing options that I haven't seen in any other AI writer software tools. That's what makes this AI content writing tool stand out from the others.
The QuillBot Paraphrase Tool helps you write and rewrite articles better, faster, and clearer and enhances any sentence, paragraph, or article using state-of-the-art AI. The free version comes with a 125 Paraphraser word limit.
This online paraphrasing tool integrates directly into Google Docs and Chrome Extension and can rephrase any text in a variety of different ways, guaranteeing you find the perfect language, tone, and style for any occasion.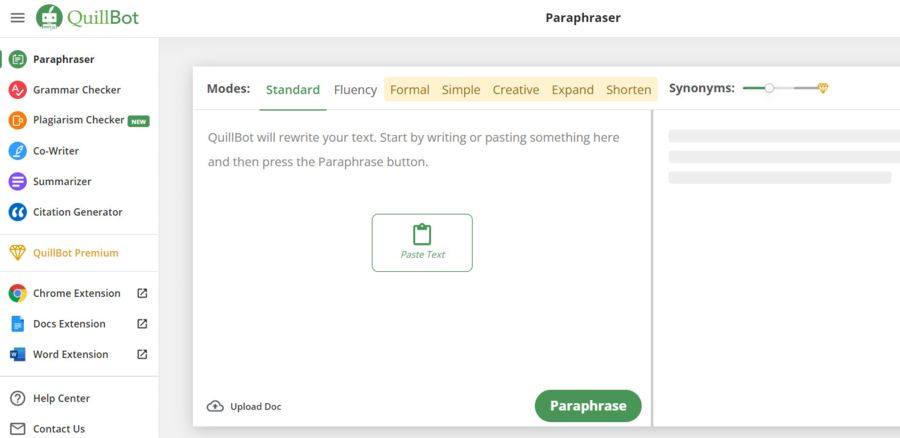 The QuillBot Summarizing Tool is an instant text summary tool that will sift through research papers, news articles, or long-winded emails to identify the main points and give you a high-level overview of the material.
The QuillBot Free Citation Generator Tool is a fast and easy way to make citations for your essays, presentations, and documents. This AI essay bot will easily create APA, MLA, and Chicago-style full and in-text citations in a snap.
Use QuillBot's Free Online Grammar Checker Tool to polish your written work quickly and easily, and perfect your English by reviewing your writing for grammar, spelling, and punctuation errors.
The QuillBot Co-Writer Tool is an all-in-one writing tool that allows you to paraphrase, grammar check, get writing tips, and even search the web without switching between tabs.
QuillBot's Plagiarism Checker will scan your document for unintentional plagiarism against billions of sources and analyzes whether any section of your text did not properly attribute authorship to content already published on the web or in books, or research papers, academic papers, or news sources.
Click here to try the QuillBot Paraphrase tool free
#8. Writesonic (Best AI article writer)
🎁 Free AI article writer options: Get 10 credits free
Use the Writesonic AI to write articles and boost your website's SEO to generate more traffic. The Writesonic article writer AI tool is rated 5-star in 5000+ reviews.
It can generate high-quality articles, blog posts, landing pages, Google ads, Facebook ads, emails, product descriptions, and more in seconds.
Writesonic's Article Writer 3.0 lite or Instant Article Writer enables you to quickly and easily write articles (1500+ words) in one click and with just one input.
Instant Article Writer + Bulk Upload is a powerful combination that lets you churn out 100s of blogs and articles faster than making 2-minute noodles.
The Writesonic AI for writing articles has been trained on high-performing copy from top brands and knows what converts, and how to write content that resonates with your audience.
Take a deep dive into using Writesonic's AI Article Writer 3.0, alongside their long-form Sonic Editor, to create a full-length SEO-optimized blog post in just a few minutes, starting with only a broad topic idea and letting the AI do 90% of the work.
Click here to try Writesonic AI content writer free
#9. CopyAI (Best AI copywriting tools)
🎁 Free AI copywriting tools: Get 10 credits a month & 90+ marketing tools
CopyAI is one of the best AI copywriting tools to help you generate marketing copy in seconds. Built on top of the world's most advanced AI language model, CopyAI can write in 25+ languages.
Get access to over 90 free copywriting AI tools to power your marketing efforts. Get 10 credits per month on the free plan and 100 bonus credits for the first month, when you sign up for your free account today. No credit card is required!
Try out 90+ free marketing tools with CopyAI
#10. Sudowrite (Best creative writing AI)
🎁 Free AI novel writing options: Try it free, no credit card is required.
Bust writer's block and fall in love with writing all over again with Sudowrite, a magical AI creative writing assistant. It's great for getting inspiration when you're blocked.
Start by giving Sudowrite a short summary of your story in several sentences. It looks at the writing prompt you enter and keeps going. It's as if different versions of you in parallel universes were writing the next few paragraphs.
Sudowrite's Characters tool generates a list of possible characters, given a line describing your story and a few example characters. This is useful if you are building a cast for your story, or need to simply introduce a new character.
Sudowrite Twists feature even generates plot twists given a premise. It optimizes for surprising turns that subvert expectations in the context of your story.
Sudowrite's AI Poem generator feature generates a contemporary free verse poem. Provide a topic and optionally, a title and a few lines of a poem, and this tool will generate a possible poem given these seeds.
Simulated AI readers analyze your story and voice their opinion. They'll discuss themes, what they enjoyed, and areas to explore further. Sudowrite can simultaneously summarize your story and generate crisp loglines, with a focus on key plot points.
Sudowrite Plans start at just $10/month.
Click here to try Sudowrite for free
#11. Anyword (Best website personalization AI)
🎁 Free AI writing options: Free 7-day trial with 5,000-word credits
The Anyword AI copywriting tool provides data-driven copywriting and optimizes your copy to drive up to 30% more conversions and more sales with AI on your website.
This AI copywriting software generates effective copy for ads, emails, landing pages, and content, with powerful predictive analytics that tells you what works before you publish.
When you install Anyword on your site, your visitors will be shown different copy variations, and Anyword will learn what works for your audience and improve over time. ​
Anyword's Website Personalization analyzes the assets of your landing page to optimize your copy (and generate new copy) to maximize your conversions.
Anyword also offers proprietary tools for publishers to acquire high-quality readers efficiently by measuring loyalty over time and maximizing on-site and affiliate purchases' ROI.
Click here for your free Anyword trial
#12. Rank Math (Best AI blog writer plugin)
🎁 Free AI writing options: Get 5 free credits
Rank Math's Content AI is the best AI blog writer tool that comes with the Rank Math WordPress plugin. It helps you write SEO-optimized content that is not only great for your visitors, but also for search engines.
This AI SEO writer plugin will help you write your SEO content based on solid data, with smart suggestions based on your focus keyword's language and your target country.
Rank Math's Content AI SEO writer tools will tell you what phrases or words to use in your content, headings, or SEO metadata.
You can generate a fully-functional and Schema-ready FAQ section with the questions you should be answering to your audience, with the click of a button.
This blog writing AI tool also provides smart link suggestions to help you add credible citations to your content to increase your search visibility.
Rank Math's blog writing AI tools will even tell you exactly how many words to write, what headings to use, how many links to insert, or media to embed.
Click here to try Rankmath Content AI now
#13. Article Forge (Best non-GPT-3 content generation AI)
🎁 Free AI writing options: 5-day free trial
Article Forge is an AI writing generator tool that uses advanced artificial intelligence and deep learning to write completely unique, SEO-optimized, high-quality articles with the click of a button.
You can generate high-quality content in 60 seconds with this AI content writing tool. Compared to GPT-3 based AI content generator tools, the Article Forge AI content generator has two important advantages:
It independently researches your keyword before writing, making sure that everything it writes is accurate and educational… which makes it helpful.
It has a new "grader" that judges the factual accuracy, quality, and helpfulness of each sentence Article Forge writes.
According to Article Forge, it iterates on each sentence eight times to ensure that every article you receive is accurate, of high quality, and useful.
With this update, Article Forge becomes the only tool designed specifically for useful content, that benefits both your rankings and your readers. But how good is this grader, and can it really satisfy Google?
Article Forge's grader was trained using a model architecture that outperforms humans and was additionally improved by their team of linguists over thousands of hours of intense work.
Finally, this grader outperforms humans when it comes to determining the usefulness of a sentence. With "better than human" performance, Article Forge can truly create content that both Google and humans enjoy.
The Article Forge content writing AI software was born out of five years of artificial intelligence research, and its deep learning models have been trained on millions of articles, so it can write intelligently about virtually any topic.
Article Forge's AI writer generator uses the same type of deep learning models to write content that Google uses to evaluate the content and writes content in a way that Google's algorithms will naturally love and rank.
But what makes Article Forge the best AI content generator software is that all their plans offer bulk article generation.
Click here to try out Article Forge free
#14. RankIQ (Best niche SEO AI writing assistant)
🎁 Free AI writing options: None
Write blog posts that rank on Google's 1st page with RankIQ's AI-powered SEO toolset built just for bloggers. It tells you what to put in your post and title, so you can write perfectly optimized content in half the time.
RankIQ has a hand-picked keyword library for every major blog niche, to help you find the lowest competition phrases that also have high traffic potential.
Construct blog post outlines in minutes with RankIQ's AI content report that identifies the topics that Google's ranking algorithm wants you to cover so that you can create a complete outline in a matter of minutes.
RankIQ's AI writing assistant tells you what you need to add to your post, so you can build a comprehensive piece of content, that will be able to compete for a 1st page Google ranking.
RankIQ's AI that helps you write optimized copy will increase your traffic and income by optimizing an old underperforming post and putting it in a position to be a top performer in less than 30 minutes,
RankIQ's top 30 SERP analysis reveals the keywords that Google likes the most in titles, to help you craft a top-notch title from the words proven to deliver the highest CTRs.
Click here to watch RankIQ's product tour video
I hope this list of the best AI tools for content writing helps you find the right AI writing generator tool to write content for your needs.
Writing tips & tools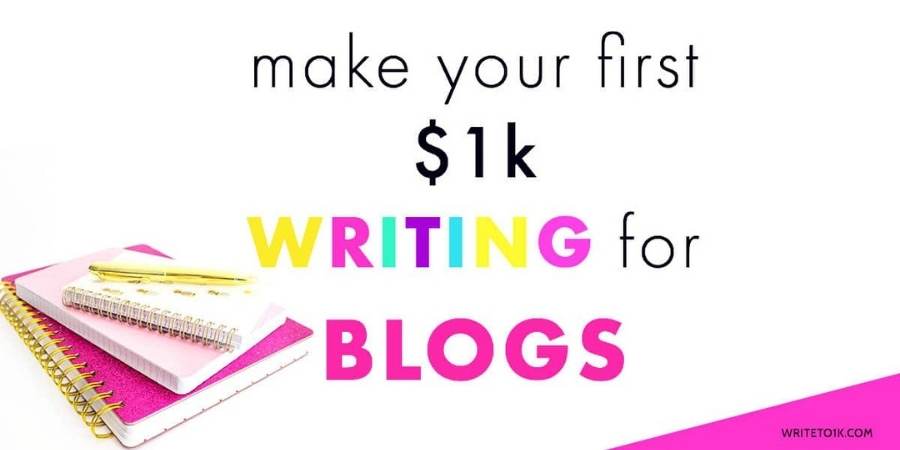 ---
© 2022, Priya Florence Shah. All rights reserved.