I see a lot of people on Quora asking the question – should I publish my blog on WordPress.com or Medium or self-hosted WordPress?
As Rand Fishkin says in the latest Whiteboard Friday episode, it's not that simple.
Medium, LinkedIn and WordPress.com offer the benefits of a ready-made community of potential followers who will engage with your content. These hosted blog sites also offer domain authority that comes with its own SEO benefits.
On the other hand, publishing on a free blog doesn't give your own domain many SEO benefits. Free blogs are not customizable, lack brandability and do not lend themselves to being used as part of a sales funnel.
In my posts here and here, I list many similar reasons why I do not recommend using a free blog as your primary content distribution channel, including the fact that it implies you're not a serious blogger and makes your blog less link-worthy.
Also, hosted blog sites can delete your blog anytime and all your efforts will go to waste, as a result. Yes, it's been known to happen. That said, having a self-hosted WordPress blog is essential to your social media strategy.
Rand Fishkin recommends using hosted blog platforms, like LinkedIn and Medium, as a channel for repurposed content or guest posts, and for content earlier up in the sales funnel, rather than for content that ranks for your "money" keywords.
It's one of my favourite Whiteboard Friday episodes because he presents both the pros and cons in a very well-thought-out manner. In this episode, you'll learn about the disadvantages and advantages of self-hosted WordPress blogs versus hosted blog sites like Blogger, Medium and WordPress.com.
If you're a newbie blogger who's been asking the question "Self-hosted WordPress vs Blogger, WordPress.com or Medium – what's the best blog publishing platform?" check out the Launch Your Blog course.
Pin and save for later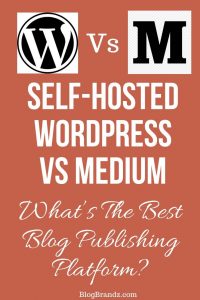 Learn how to set up a WordPress blog in a weekend. Get access to my WordPress Setup Step-By-Step Videos, How To Blog 101 PDF and Private Facebook Group.
100% privacy. I will never spam you.