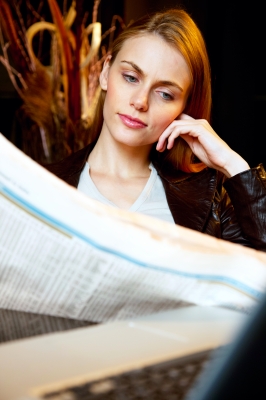 This is a guest post by Kathryn Thornton
Digital marketing may be the in-thing right now, but a business that wants to overthrow its competitors and spread its reach far and wide cannot afford to let go of print marketing just yet.
There are serious business benefits offered by print media, which online advertising strategies simply cannot match.
The Local Touch
Digital marketing is carried out over the Internet, where there are no geographical boundaries. Print marketing, on the other hand, has a very local impact; a small business can use brochures, flyers, postcards, posters and other paper-based advertisements to promote their products and services within the neighborhood.
You can set up a booth at trade fairs held in your community. Since you know the area, you are aware of the local needs and can tailor your marketing campaign to address those needs.
The power of direct mail marketing allows you to send postcards at a very low rate to all the houses within a neighborhood or to all the addresses on a mailing list, thereby greatly widening your reach.
While the number of online consumers is on the rise, these people are also increasingly wary of fraud and security breaches over the Internet. More often than not, they would prefer to call up the physical store or, better still, visit it in person to check out the authenticity and credibility of the business.
The Personal Touch
When you design the flyers, postcards and letters that go out to customers, try to personalize the print ads in some way. It may be easier to do this for existing customers but with a little research and some local market surveys, you can manage the personal touch for potential customers as well.
The most obvious way to achieve this objective is to add the customer's name to your print marketing media. You may also send them greetings and special discounts or offers on their birthday or anniversary.
The effort that you put into doing this will pay rich dividends in the long run. Your customers will feel valued and cared for, and they may be motivated to associate with your company in return. This directly increases your potential sales and revenue.
The benefits of personalized print marketing don't end there; a satisfied customer is very likely to think of your business first when a friend needs the products or services that you offer. There you have indirect sales through word-of-mouth advertising.
The Generation Factor
The majority of online users are people in their twenties and thirties. The older generation still prefers to read newspapers and magazines, listen to the radio and watch television.
By focusing your marketing budget sufficiently on print media, you can target customers belonging to the age group of sixty and above. They are most likely retired and have more time to read your leaflets and brochures.
The Internet makes them anxious and they prefer to avoid online browsing; if you send them print media to advertise your company's products and services, they are highly likely to choose you over competing businesses that stick to digital marketing.
Unlike online ads, print ads are forced into the consumer's hand and they cannot ignore your marketing efforts; this increases the effectiveness of print marketing in boosting sales. Use the trust factor and personal quality of print marketing to create value for your customers.
Kathryn Thornton is an SMB marketing consultant. She blogs about the latest marketing techniques for a range of websites. Visit Phoenix Direct for printer ink and office supply solutions.
Image courtesy of FreeDigitalPhotos.net
👩‍💼 Free Personal Branding Course
Signup
👩‍💼 Free Personal Branding Course
Go from Unknown to Well-Known! Get my eBook 'Be The Expert' + a Free WordPress Setup Course
100% privacy. I will never spam you.
100% privacy. I will never spam you.