Having a website is an unspoken and unwritten requirement for modern businesses. This is true even for those businesses that do not primarily function online. To a lot of people, a business without a website comes across as sketchy, or even non-existent.
While it's true that websites are important, this is even truer for e-commerce businesses. As all their business is done online, a lot of investment centres on creating, maintaining, and improving their websites. This is their store and as such, it must be worth going to and making purchases.
To help you build a great website, even if you're not engaged in e-commerce, we've written this website creation checklist so that you can get familiar with all the essential elements needed in planning, designing and launching a website that works to help you achieve your business goals.
The Ultimate Website Launch Checklist
This ultimate website launch checklist has a list of 22 essential criteria to keep in mind when launching your perfect website.
1. Your Domain Name
Your domain name should not be a salad bowl of random letters. It should be crafted such in a way that you can feature your brand's name, can help people remember your URL easily and without spelling errors, and can help them type in the name into the browser bar easily.
As far as possible, get the dot com for your business as this is what users are most likely to type in when searching for your website online.
2. Your Logo
To help improve brand awareness, you must include a well-designed logo in your header. Make sure that you put in a lot of effort into your branding colour palette and in creating your logo as this is the most memorable symbol of business. Some of the best places to get a logo designed.
3. Your Tagline
Coming up with a catchy and memorable tagline can help boost brand recall. It should also reflect what your business is about and help visitors discern how it is unique from other brands that offer the same products and services.
4. Your Call-to-Action (CTA)
Crafting a compelling CTA can help increase the chance that your prospects perform your desired action and improve your conversions. Spend some time perfecting your CTA to ensure you get the best results.
Functional navigation menus can help visitors get around your site smoothly and efficiently. Ease of navigation is an essential consideration of whether a side is high-performing and can do wonders to improve the user experience when done well.
If you want to understand how your users navigate and browse your website and content, install a website analytics tool that offers session replay, heat maps, funnels, and form analytics and use that data to improve conversions.
Another way to help improve your navigability is by utilizing breadcrumb navigation where a user's path towards an internal page is displayed so that they can easily backtrack to the previous level.
7. Images or Sliders Above The Fold
Above the fold usually lies a static image or an image carousel that is the best location to feature critical information such as promotions, special product photos, lead magnets or anything that deserves special attention from your visitors.
8. Reviews and Testimonials
Another way to grab the attention of your visitors is by displaying reviews and feedback from previous customers.
When done well, reviews increase the trust in your brand, helping you achieve better conversions as a result. Usually, it is best to feature reviews and testimonials from known and trusted personalities or industry leaders.
9. Essential Business Information
It is also ideal to showcase essential information about your business, not only to prove that your website and business are legitimate but to also correctly inform customers who might want to reach out to your business to decide whether what you offer is right for them.
10. Quality Content
Content is an indispensable part of your website. You should create quality content on a regular basis, and make sure you optimize it so it can generate organic traffic to your site from search engines. Starting a blog is an excellent way to do this.
11. Your Products & Services
You must have one or more pages showcasing your products and services, as well as your site's purpose. Your users will scroll down anyway, but you should be able to lead them through your website correctly and guide their experience so they can easily discover what you offer.
12. Internal Links
Within your content, you should make use of internal linking strategies and opportunities so you can redirect your users to interesting pieces of content on your site or to your money pages.
While the top navigation is already in place in the header menus, it is also a good practice to have a secondary navigation menu in the footer that points to important pages on your site, so that the user need not scroll back up to the top of the page.
Place links to your business' social media accounts in strategic areas of your site so you can drive them towards your social media pages. You should also have a floating share bar so that visitors can share your content with their networks. You can easily implement these tips using free plugins like AddToAny.
15. Chatbots
Online chat is an essential function of most websites nowadays and it has a lot of benefits for your business. If you're unable to provide 24-hour chat with a dedicated customer service team, there are many chatbot options that can work for you.
16. Contact Information
Besides your contact page, it is advisable to display your business' contact information on every page of your website. This is not just a trust signal but also helps make it easy for your customers to reach out when necessary.
17. Business Hours
In addition to contact information, it is also a good idea to include your business hours in the footer, so that your users are aware of when they can expect human communication when they have inquiries or concerns.
18. Essential Pages
Links to legal policies, such as privacy policies, terms and conditions and disclaimers or disclosures, come under this category. You should not take for granted the need for these essential pages:
About Us Page
FAQ Page
Privacy Policy
Disclosure & Disclaimer (especially if you sell affiliate products)
19. Blog Features
Within your blog, you should integrate the following features that can boost user experience and engagement.
Comment feature
SideBar Navigation
Search Bar
Social Media Share
Subscription form
20. Newsletter Subscription
If you want to grow a community using your website, email marketing is, by far, the best way to do that. Offer a lead magnet and capture leads and subscribers using an email marketing system.
21. Technical Considerations
Take note of the following technical considerations, most of which are essential to ensure the best user experience and performance.
Get fast and reliable WordPress hosting which includes backup and SSL.
Make sure your website is mobile-friendly.
Promote cross-browser compatibility
Use a content management system (CMS) like WordPress
Integrate Google Search Console and Google Analytics
Use an easily readable and clean font that conveys your message effectively.
Use a Hamburger Menu to promote ease of navigation while maintaining a simple design.
Use grammar and spell checker tools to prevent language and spelling errors.
22. What to Avoid
Finally, here are some things that you should avoid doing as they can negatively affect your website's user experience and conversions.
Using pop-ups, interstitials and layouts that make content less accessible
Using a video hosting service to load videos on the server
Using background music that annoys users
Using Flash that has compatibility issues
Using click-to-enter, which is shunned by a lot of users
Stealing content, images, and bandwidth from other sources
Sharing confidential information, especially those of your customers.
Launch a great website with this ultimate website launch checklist!
We hope you found this ultimate website launch checklist useful for planning, designing and building your perfect website. Bookmark it and check back often as it will be kept updated always.
While website criteria checklists and standards will continue to change as web technology evolves, these tips will help you work your way towards building a website that will help you achieve your business goals.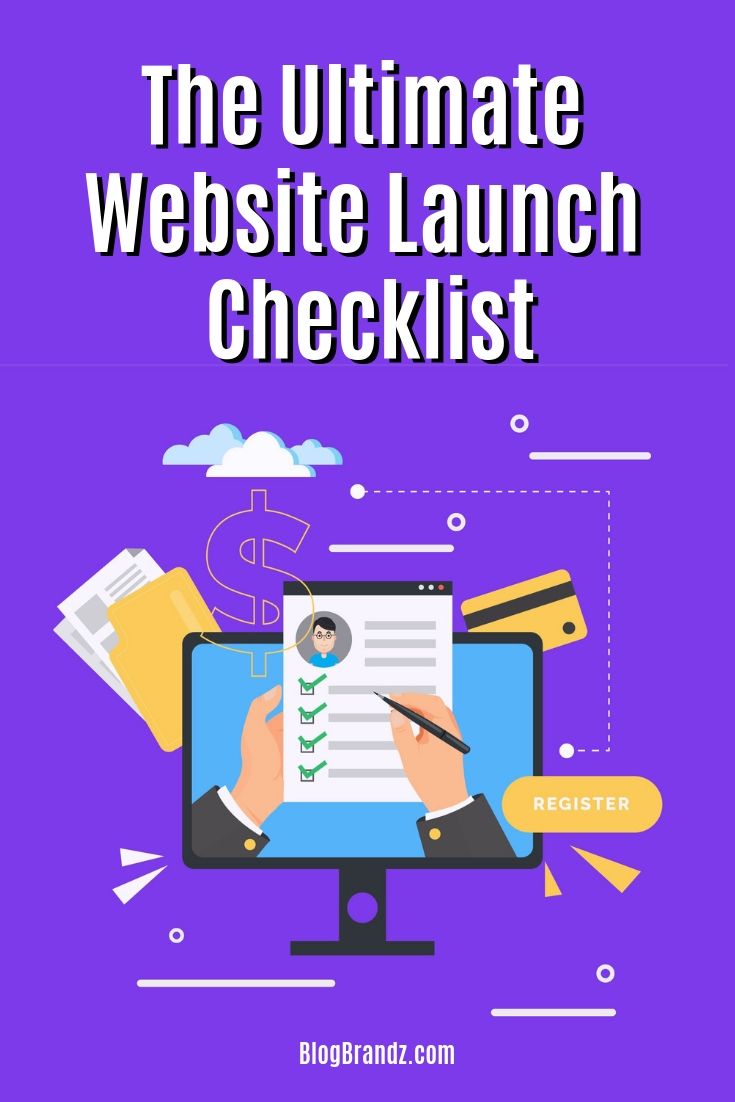 👩‍💼 Free Personal Branding Course
Signup
👩‍💼 Free Personal Branding Course
Go from Unknown to Well-Known! Get my eBook 'Be The Expert' + a Free Personal Branding Worksheet.
100% privacy. I will never spam you.
100% privacy. I will never spam you.
Juliette Anderson is an Outreach Community Specialist for an e-commerce fulfilment company that specializes in partnering with online sellers who have an average parcel weight of 5+ pounds or greater. She works hand-in-hand with e-commerce stores to achieve optimal sales for four years already. Her speciality lies in social media marketing and paid promotions.