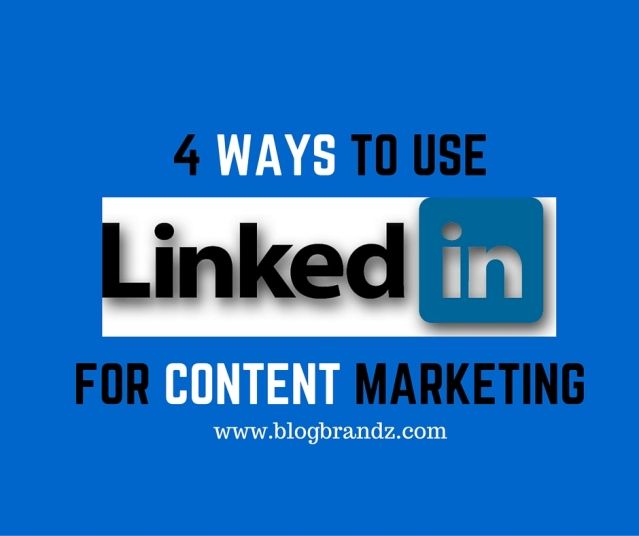 This is a guest post by Mike Dane of Truconversion.com
How would you like to have an article that gets 70K views, 11K+ shares, and close to 500 comments?
That happened to Alex Pirouz who posted an article on LinkedIn's publishing platform.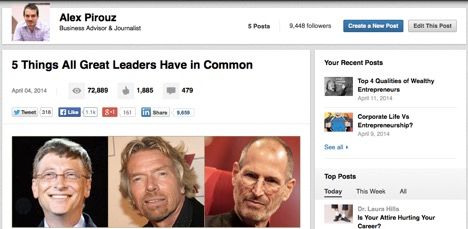 With over 400 million users in a professional environment, LinkedIn is the perfect social media platform to share your industry knowledge, build your expert status and establish thought leadership positioning.
Using LinkedIn for content distribution is becoming essential for any business, and especially for B2B companies because you can easily target your audience using information in their profiles.
When you build a targeted network on LinkedIn, you're also setting up the stage to have your content reach a highly relevant audience.
LinkedIn allows you to share your content in different formats based on the nature of the content and your goal for sharing the materials:
Short content and links are great for status updates
Long-form, in-depth content does well on LinkedIn Pulse, their long-form publishing platform
Document, presentations, videos and other media can be embedded to your profile or company page
In this article, we'll look at four ways to leverage these formats to increase the reach of your content, leveraging LinkedIn's professional environment to build your audience and position you as the expert in your industry.
1. Pack a big punch in your status updates
Your status updates is a great place to share short and digestible content, as well as links to your blog posts.
As you post a status update, it shows up on the newsfeed of your entire network of first-degree connections.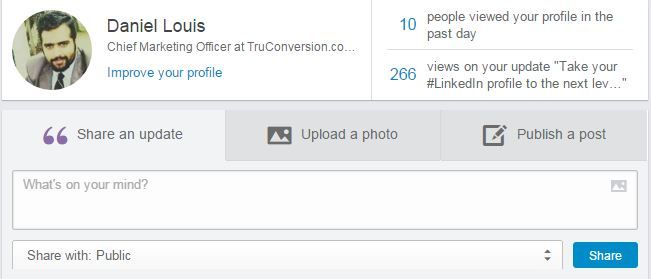 When your connection "likes" your update, it will be shared with their network. This can quickly multiply the exposure of your posts and therefore worth the effort to create highly sharable content.
Use images to capture attention and make your posts standout in the newsfeed. If you're posting a link with images, an image shows up on your post next to the link as a 180×100 px thumbnail.
To capture more attention with images, you can upload one directly onto the update and it'll show up at a maximum width of 350 px.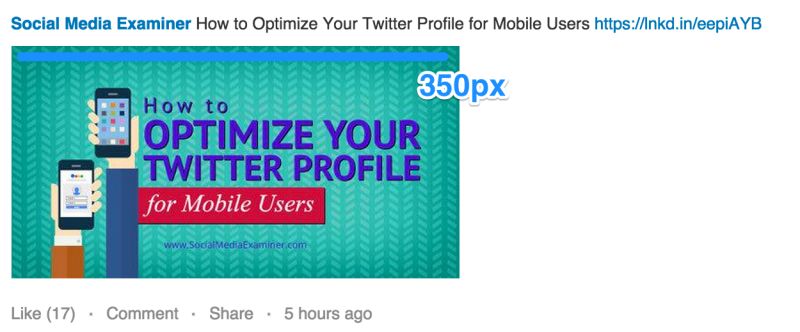 If you've built your network strategically with your ideal clients and customers, posting on your status update gives you the opportunity to get in front of your ideal audience consistently.
The status update has a character limit of 600, so be concise. If you're sharing an external link, write a compelling summary to pique your readers' interest so they'd click through to read more.
You can link to an article on your website, a guest post you wrote for another authority site, an interesting article that adds value to your ideal audience, your other social media updates, or an article in which you were quoted.
Moreover, you can attach a document to your status update if you want to share a piece of long form content.
Most people appreciate getting in-depth information such as white papers and case studies, or useful materials such as templates and checklists.
Format your document so it includes your website and contact information in the header and footer area, as well as a call-to-action to take the next step either by contacting you or joining your email list.

You can also use the status update for shorter content that focuses on building relationship or elevating your expert status. E.g. a motivational quote, a brief piece of tip or advice in your area of expertise, a question, or an important announcement about your company.
When you post a status update, and the content is useful for someone in your network, you can tag them by adding the "@" sign before the individual's or company's name. This can help nurture relationship with your network, and encourage them to share your update.
LinkedIn is a professional environment, and people use it for business and career focused networking purpose so keep your status update professional.
Here are a few etiquettes when sharing content on your LinkedIn status update:
Make sure the post you're sharing is relevant to your audience and provides value. It's not a place for cat photos, or that hip bar you hit last night.
Limit your updates to a couple of times a day. Don't be a spammer and post 20 times a day like you'd on Twitter.
Be social – it's a social media platform after all. That means focus on relationship building, not pitching your products and services all the time.
Most people use LinkedIn during work hours, so post when they're there. That means aligning your posting schedule with the time your audience is on LinkedIn will get your more eyeballs and interaction. Posting on times like Friday nights and weekends won't get your much traction.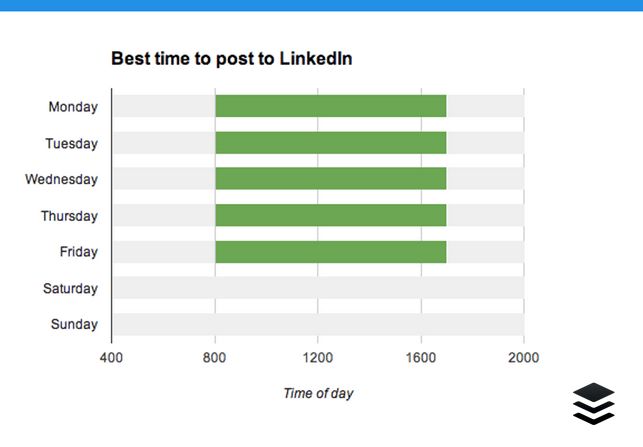 2. Use the LinkedIn publishing platform
LinkedIn Pulse is LinkedIn's long-form publishing platform that allows you to share articles on in-depth information in your area of expertise.
There're quite a few advantages of publishing on LinkedIn Pulse: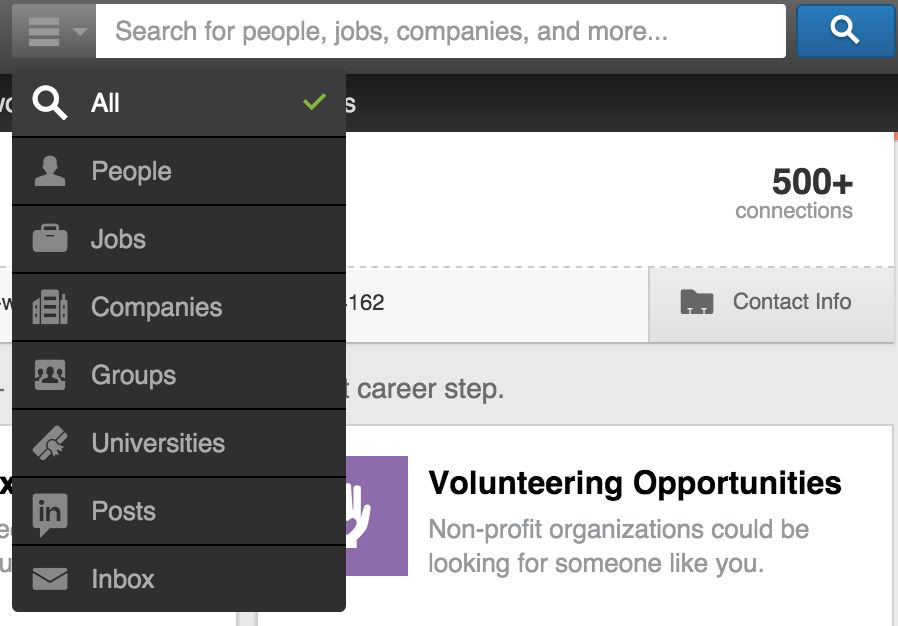 All LinkedIn users now have access to the platform so your content is searchable and viewable by all 400 million of them.
When you publish a post, your connections will see it on their newsfeed. If you've been connecting with like-minded professionals and ideal clients, then your content is reaching a targeted audience to initiate a two-way dialogue, cultivate relationship and strengthen your expert status.
Your posts are listed prominently on your profile, right below your name, title and photo. When your connections check out your profile, they'll see your posts. Even if they don't click through to read them, having published a few articles can create the impression of being an expert.
If your articles are providing value and your connections like or share them, their connections will see them as well. This opens up opportunities for you to get exposure to a new audience.
You can include up to 3 tags at the bottom of your article entry to make it more searchable, thereby increasing your exposure to a larger audience.

You can write original content for this platform, or like many users, use it as a tool for republishing and distributing existing posts. You may want to re-write an intro that speaks to the audience on the platform. This can help you reach a new audience and increase visibility to your connections efficiently.
Follow these tips to create effective long-form content on LinkedIn:
Use a writing voice that complements your brand personality. Keep your tone conversational and professional.
Focus on a topic that highlights your experience or expertise.
Express you opinions, but keep it professional.
Publish valuable content as often as 1 – 2 times a week to stay top of mind.
It's found that 800 – 2,000 words is the sweet spot to encourage engagement. Just keep in mind that providing valuable content is more important that writing for word count.
Use images, infographics, videos, presentations and documents to enhance your content. Make sure you upload an enticing feature image, as it'll show up in your profile, newsfeed, and search results.

Upload an enticing cover photo to enhance your post.

Use formatting tools to make your piece easy to read. LinkedIn's platform offers some basic formatting options, so you can create headlines and subheads with H1 and H2 tags, use bold or italics to highlight certain content, and create lists to make your post easier to read.

Formatting options to help you make your post easy to read. Include keywords in headlines and subheads using H1 and H2 tags for better SEO.




Craft a headline that captures attention. Clear beats clever, and use puns or jokes sparingly. Make sure your headlines say what your article delivers. Writing something catchy just to get a click is going to backfire.
Optimize for SEO by including keywords in your headline, and in subheads using H1 and H2 tags.
Quote influential LinkedIn users, then let them know about your post by either tagging them using "mention" or even better, send them a personal message. More likely than not, they'd be happy to share your post.
Consider adding a couple of links to relevant resources on your website, such as a blog post on a related topic, to help drive traffic back to and promote content on your website.
Include a call-to-action at the end of your post to encourage sharing, interaction and discussion.
Add a short "about the author" section at bottom with a CTA to invite your readers to connect with you.
After you published your article, it'll appear on your profile and your connections' newsfeeds. Many of your connections will also get a notification that you have published an article, depending on their user setting.
A small number of articles will get featured in Pulse channels. To increase your chance of getting featured, tweet your article out and add "tip@linkedinpulse".

There's more you can do to make your post work harder for you by taking promotion into your own hands:
Share it on other social media platforms that your followers and clients tend to hang out.
Send it to your colleagues and ask them to share.
Share it on your status update, and use mentions to tag connections if they've been mentioned in your piece, or if they'd find the piece particularly relevant.
Share your article in groups you belong to. Add a title and description to pique interest and entice readers to click through.
Check your stats and reach out to individuals who have been reading and interacting with your post. You can send them a personal message asking them to share and comment.
3. Promote content in your profile
Aside from articles you post on LinkedIn Pulse, you can also feature your content in other sections of your profile:
Embed a document or presentation to your summary section. This section is located high up in your profile, which means it has a better chance of getting seen.

Example of embedding a slideshare presentation in the summary section. You can add videos, documents or presentations by click the "+" icon at the top right corner.

Add any significant publication you have to the "publications" section. This can boost your expert status and thought leadership positioning.

Use the publications section to feature your published work. Image source: http://www.socialmediaexaminer.com/optimize-your-linkedin-profile-for-more-exposure
4. Promote content on your company page
When you set up a company page, you can deliver company news and updates to your page's followers.
One big advantage of using company page is that you can segment your newsfeed to determine who see your updates based on their location, job description or job title.
When you post an update on your company page, only your followers will see it. To increase the reach of your content, you can try the following:
Share the update in groups with your ideal audience.
Share the update on your own newsfeed so it reaches your personal network.
Encourage your employees to follow the page and share the content with their network.
Develop a relationship by having a two-way conversation with your followers. Reply to comments and ask questions.
Use sponsored feeds to reach new, highly targeted audience.
Remember, LinkedIn is a social media platform and "social" is the operative word.
Focus on sharing knowledge and building relationship. Encourage two-way conversations with your ideal audience, and participate in discussions to add value.
Don't spam your connections or followers with overly frequent updates, and use the 90/10 rule when it comes to providing value vs. selling.
Building individual relationship by reaching out to your biggest fans can be very rewarding so it's worth putting in the time and effort connect and be helpful.
Over to you – how are you going to leverage your LinkedIn presence to reach a larger audience with valuable and relevant content? Leave a comment below and share your insights:
👩‍💼 Free Personal Branding Course
Signup
👩‍💼 Free Personal Branding Course
Go from Unknown to Well-Known! Get my eBook 'Be The Expert' + a Free Personal Branding Worksheet.
100% privacy. I will never spam you.
100% privacy. I will never spam you.
Mike is a Digital Marketing professional and currently working as a PR manager at #TruConversion.com. He truly loves Online marketing and anything digital. He is very focused about who he works for. Once he starts work, he is fully committed to his duties and responsibilities at that company.