What do Shakespeare, Newton and YOU have in common?
All had the luxury of "free time" during a pandemic.
During the plague 'lockdown' in London, William Shakespeare found himself with lots of free time on his hands, so he got to writing.
He composed King Lear, Macbeth, and Antony and Cleopatra before the year was over.
But Shakespeare isn't the only person who produced some of his best work in quarantine.
In 1665, when Isaac Newton was in his early 20s, one of the last major outbreaks of the bubonic plague hit the country.
Forced to retreat to his family's estate, he produced some of his best work during his year in quarantine.
I'm an eternal optimist and I believe that the COVID-19 lockdown is the perfect time to create that masterpiece that's within each and every one of us.
Whether you've always wanted to write a book, build a blog, create an online course, start a new business, or paint your own masterpiece, this is YOUR time and there's no better time to create than now.
Not when you have the best writing classes you need to learn how to write a book at your fingertips.
Here are some things you can do during the lockdown:
But, I believe, if you want to build your personal brand and grow your business, the best use of your time is to spend the next few months writing that novel or non-fiction book you've always wanted to write.
After all, "author" is the root of the word "authority" and there's really nothing better to build your personal brand than becoming an author.
5 Writing Masterclasses To Help You Write Your Masterpiece
So here are 5 of the best creative writing Masterclasses by world-famous authors and experts to help you get your masterpiece out into the world.
James Patterson, currently the best-selling author in the world, is best known for his many enduring fictional characters and series, including Alex Cross, the Women's Murder Club, Michael Bennett, Maximum Ride, Middle School, I Funny, and Jacky Ha-Ha.
Having mastered the art of creating complex and memorable characters, he shows you how to start writing your own best-sellers and reveals his secrets from getting your reader hooked from the very first line to making your character stay with your reader well beyond the last page.
James offers tips for getting into the proper mindset and staying focused, productive, and motivated, which is an essential first step to writing a best-seller.
He shows you how to recognize a great idea and figure out if it's worthy of your effort by spelling out the techniques he uses to generate his ideas and then separate the good ones from the less compelling ones.
James' secret weapon is a comprehensive outline and he'll show you how he sets himself up for a fast and successful first draft. He also shows you how conducts his research and how he incorporates it into his writing in a thoughtful way.
Click here to join James Patterson's Writing Masterclass
Learn how the author of The Handmaid's Tale crafts vivid prose and hooks readers with her timeless approach to storytelling. Called the "Prophet of Dystopia," Margaret Atwood is one of the most influential literary voices of our generation.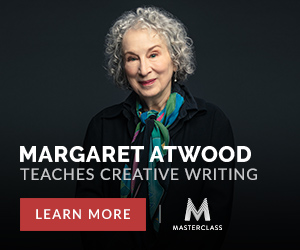 In her first-ever online writing class, the author of The Handmaid's Tale shares creative writing tips and teaches how she crafts compelling stories, from historical to speculative fiction, that remain timeless and relevant. Explore Margaret's creative process for developing ideas into novels with strong structures and nuanced characters.
Click here to join Margaret Atwood's Creative Writing Masterclass
Transform your storytelling with Malcolm Gladwell in his first-ever online class where he analyzes his own works to reveal his unique creative process. In 24 lessons, the author of Blink and The Tipping Point teaches you how to find, research, and write stories that capture big ideas.
Craft stories that captivate by learning how Malcolm researches topics, crafts characters, and distils big ideas into simple, powerful narratives.
Click here to join Malcolm Gladwell's Writing Class
Neil Gaiman is one of the most prolific storytellers of our time. In his Masterclass, he encourages you to tell stories that matter and shows you how to make your story's world, no matter how outlandish, feel real to readers.
You'll learn how to create your own "compost heap" of inspiration and how to draw from your experiences to make a story uniquely your own. Neil will also show you how to develop your author voice and overcome the fear of making mistakes.
He uses his young adult fantasy novel, The Graveyard Book, to illustrate how character motivations serve as the essential building blocks of a compelling plot. If you're a fan of his stories and have always wanted to write like him, Neil Gaiman's Masterclass is an unmissable course for you.
Click here to join Neil Gaiman's Storytelling Masterclass
When Shonda Rhimes pitched Grey's Anatomy she got so nervous she had to start over. Twice. Since then, she has created and produced TV's biggest hits. In 6+ hours of video lessons, Shonda teaches you her playbook for writing and creating hit television.
In her screenwriting class, Shonda teaches you how to create compelling characters, write a pilot, pitch your idea, and stand out in the writers' room. You'll also get original pilot scripts, pitch notes, and series bibles from her shows. Welcome to Shondaland!
Click here to join Shonda Rhimes' Screenwriting Class
Masterclass helps you learn from the best in the world with online classes taught by the world's greatest minds – celebrities like Massimo Bottura, Gordon Ramsay, Helen Mirren, Mira Nair, Dr Jane Goodall, Samuel L. Jackson, Carlos Santana, Martin Scorsese, David Baldacci, Chris Hadfield and more.
Get unlimited access to all classes with the MasterClass All-Access Pass.
Here are some more free writing classes, book writing and authoring tools for fiction or non-fiction writers.
Disclosure: I was compensated for this post. This post also contains affiliate links and I will be compensated if you make a purchase after clicking on my links.
More book marketing tips