In 2020, the importance of branding is expected to grow, especially digital branding. Can you think of yourself as a brand? Do you know how to describe yourself as a brand?
Some examples of famous and successful personal brands include Richard Branson, Elon Musk, and Oprah Winfrey. Top personal branding experts, like GaryVee, are good examples of authentic personal branding.
Why is personal branding important?
Why should you learn how to build a personal brand online? Because when you have a strong personal brand, you become irreplaceable!
Your personal brand can help you attract clients and customers who appreciate your expertise, and positions you in their mind, just like a product or service.
Here are 7 advantages of personal branding:
✔ Build trust and credibility
✔ Create expert authority
✔ Differentiate yourself from the competition
✔ Increase your perceived value
✔ Control your image and reputation
✔ Build buzz around your achievements
✔ Create more professional security
Most people don't know how to build a brand online. They don't know what is branding or how to define their brand positioning and create a brand strategy, brand image and brand identity for themselves.
Here's how I can help:
1. Free Personal Branding Online Course
Want an introduction to personal branding? Learn personal branding basics in my Free Personal Branding Course.
You'll get my personal branding eBook, Be The Expert, as well as a personal branding worksheet PDF to help you start writing your personal brand statement that reflects your authentic personal brand values.
You'll also learn a step-by-step personal branding framework using online branding strategies that will teach you how to build your brand online, including how to build a personal branding website and do a personal brand audit.
Free Personal Branding Email Course
Go from Unknown to Well-Known. Free 'Be The Expert' eBook + Free Personal Branding Worksheet
100% Privacy. We will never spam you.
2. Download Creating Brand YOU Free on Amazon Kindle
Download my eBook, Creating Brand YOU: 21 Steps To A Powerful Personal Brand, free on Amazon Kindle.
Creating Brand YOU is a 21-step personal branding process to take you from no digital footprint at all to a well-established online presence.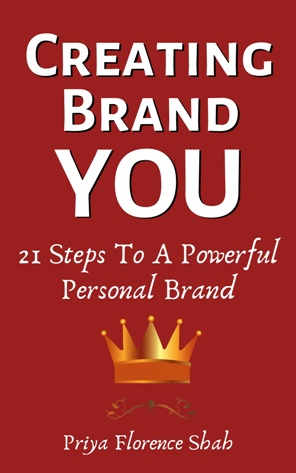 3. Personal Branding Coaching & Consulting
Do you need a personal branding agency for personal brand management services and personal branding PR?
Would you like a personal branding coach or personal branding consultant to help you create and implement your personal branding strategy?
Do you have some personal branding questions you'd like answered? See the personal branding services we offer and schedule an appointment with me below.
Book a Free 30-Minute Brand Strategy Consulting Session
Or Message me on Whatsapp for Business
4. Personal Branding Workshops & Training
Would you like your executives to benefit from personal branding training? Need a personal branding speaker to give an engaging personal branding workshop at your next event?
Click here to discuss it on a call with me.
Or Message me on Whatsapp for Business
5. 'Creating Brand YOU' Podcast on YouTube
Would you like to learn about the power of personal branding, understand how to use brand development strategies, personal branding activities, and methods of branding yourself online?
Then subscribe to my new Creating Brand YOU Podcast and hit the notification bell to be alerted when we post a new personal branding video.
You'll learn how to brand yourself and boost your own personal branding skills with creative personal branding examples of entrepreneurs, executives, coaches and consultants who have been successfully creating a brand for themselves.
You'll learn about the self-branding process and get personal branding tips, online branding ideas and social media branding and marketing tips for building a personal brand through social networking and social media networks like Facebook, LinkedIn, Twitter & YouTube.
Learn the secrets of building great personal brands from brand experts and personal branding gurus, including experts in personal branding in India in the Creating Brand YOU Podcast.
For personal branding articles and online branding tips, visit my personal branding blog.
Free Personal Branding Email Course
Go from Unknown to Well-Known. Free 'Be The Expert' eBook + Free Personal Branding Worksheet
100% Privacy. We will never spam you.