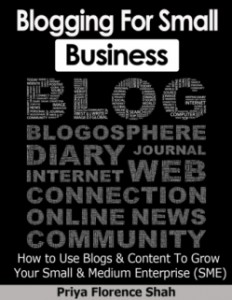 For Immediate Release
Pune, August 16, 2012 – Are you frustrated at the fact that your small business is still an unknown entity?
Do you despair at the lack of visibility and branding your business suffers from? Here's what you need to know about creating influence and visibility.
Today's newsmakers are not the big media publishers. They are the independent publishers, writers, authors, bloggers, experts who take the time and trouble to get their voice out online.
When you publish a blog, YOU become the "go-to" person in your industry and YOU'RE the one who gets quoted in the media.
This is the primary reason why a blog may be just the tool you need if you're looking to brand your business online.
In her latest book, "Blogging For Small Business: How to Use Blogs &