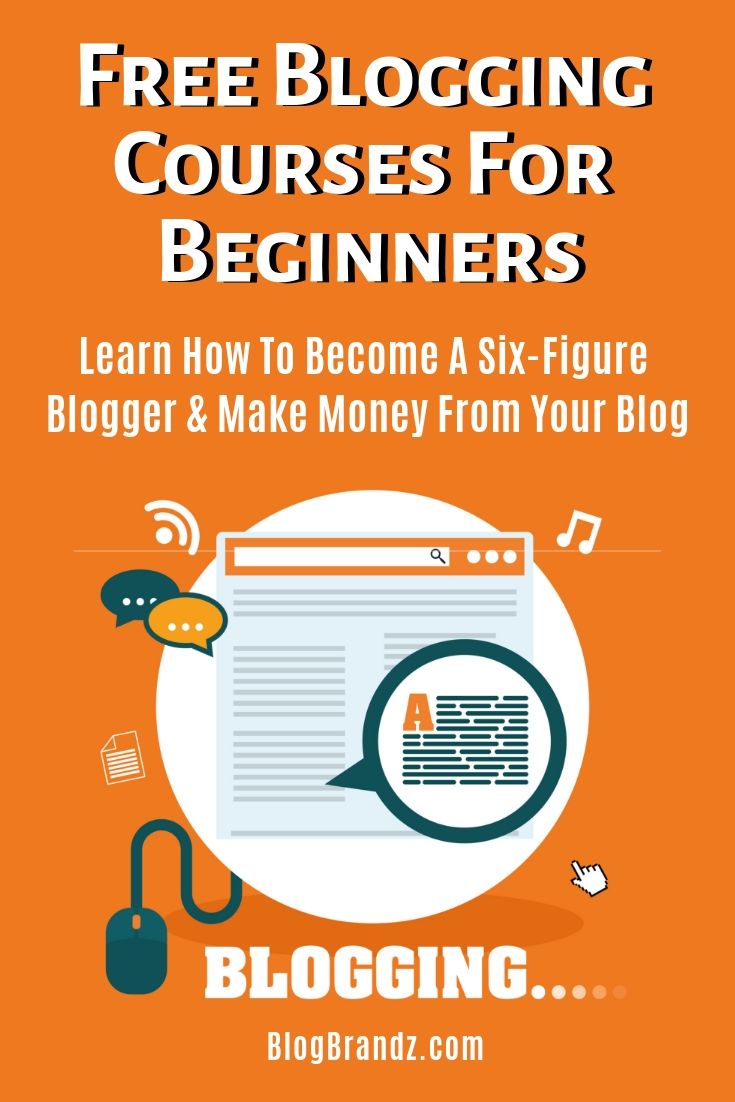 Learn How to Blog
Want to learn how to start a blog? Check out these free step-by-step blogging tutorials for beginners. Learn how to launch a blog, get traffic to your blog and make money from your blog.
Disclosure: This blog contains affiliate links. I may earn a small commission to fund my coffee habit if you use these links to make a purchase. You will not be charged extra, and you'll keep me supplied in caffeine. It's a win for everyone, really.
Free Blogging & Online Marketing Tutorials
Have you been searching all over YouTube trying to learn how to set up your blog on WordPress? You've come to the right place.
Get your free membership to my How To Blog course and access to my WordPress setup step by step videos and How To Blog 101 PDF.
In these videos, you'll learn how to set up a WordPress blog in a weekend. I sell this course for $47 here, but you get it free for becoming a member.
You'll also get access to my How To Blog 101 Course PDF and my Private Facebook Group where you'll get free coaching, support and guidance to grow your blog and make money as a blogger.
Here's what you get:
WordPress setup step by step video course
How To Blog 101 Course PDF
Private Facebook Group Access
How To Blog Newsletter
Can't figure out Pinterest? You're not alone. As a social media marketer, I had a hard time with Pinterest too. So I put my head down and figured out how to use it. You can read some of what I've learned about Pinterest in this Pinterest 101 PDF.
Learn how to get content for your blog without writing a word! How would you like to learn how to blog without writing? To get free, expert content without writing a word or paying writers thousands of dollars to do it for you?
In my free Become a Content Magnet Webinar, I'll show you how to get free unique content to your blog without writing a word. I sell this Masterclass for $17, but you get it free just for signing up.
Vick Strizheus, who created the FourPercent Success Challenge, is teaching a Mass Traffic & Conversions' Masterclass. At the end of this training, you'll know exactly "How To Get Massive Traffic, Build a Hyper-Responsive List, and Turn Your Annual Income Into Monthly Income".
Learn how to attract more clients, get more sales, and grow your business using Facebook video ads. In this program, you'll learn how to crush it with Facebook video ads. Speaking to a group of entrepreneurs, Adrian Morrison, the master of Facebook advertising reveals his strategies for selling millions of dollars worth of products using Facebook ads.
Whether you're doing internet marketing, e-commerce, B2B, B2C sales, or selling anything really, this program will open your eyes to what's possible when you start implementing proper facebook advertising strategies in your marketing. Enrol right now and get instant access!
This guide by my friend, Lena Gott, contains 3 solid traffic generation tips that aren't included in Traffic Transformation. It's the prequel to Traffic Transformation: 21 Strategies I Used to Go from 17K to 400K+ Page Views in 10 Months.
Pinterest is the tool that helped McKinzie take a brand new blog from 0-20,000 monthly page views in three months. Plus, passively profit nearly $2,000 in her blog's first 90 days.
Learn how to build a massive list of subscribers that you can communicate with and who will be eager to buy from you. In this program, you'll be introduced to specific strategies for building, cultivating and monetizing your list.
Presented by Vick Strizheus, this program will open your eyes on how to position yourself in marketing so that list building becomes effortless and fun.
Your list of customers and prospects is your biggest asset in business, and the strategies you'll discover here on how to build that list can be worth millions of dollars for your company. Enroll now and get instant access!
Struggling to get your business off the ground? Grow your list in 90 days for free with GetResponse University's exclusive List Building Program and start growing your email list from day one.
Who says email marketing has to be complicated? With so many parts and pieces, plans and strategies, it's hard to know where to start and what really matters most. That's why Convertkit wrote the book on it. This free eBook has their best practices, advice, and some advanced strategies.
Creating compelling newsletters that get opened, read, and clicked is one of the most important elements of a successful email marketing campaign. If you want to form better relationships and increase your conversions through newsletters, you will definitely enjoy this read.
Enrol in this free email course, craft a successful affiliate marketing strategy from the beginning and learn how to make a passive income with your blog. Because it all starts with that first affiliate sale.
Learn the easiest way to create your own online school and set up your first online course using Teachable (without any of the technical headaches)
How to create a beautiful school that 100% matches your brand by adding your own logo, images, colours, and page elements with our easy to use page editor, even if you zero technical skills and you're just getting started.
LIVE Q&A to answer every question you have about creating, promoting, and profiting from online courses.
You will leave this webinar with a 90-day action plan for what you need to do each week to turn your interests and skills into an online business and earn your first dollar online. Learn:
Want to make viral food videos? Recipe videos can be a powerful tool for drawing engagement to your social media channels. Find out the tools you need to make them in this free ebook, 7 Essential Tools You Need to Shoot Your Own Recipe Videos.
Learn the secrets and strategies of the biggest influencers on how to build and monetize large audience on Instagram!
With over 1 billion monthly users, Instagram is now one of the biggest networks in the world today and growing rapidly. Understanding how to build an audience, leverage the network, and monetize it for business is a skill every marketer ought to learn.
In this program, one of Instagram's biggest influencers – Tim Karsliyev (owner of @dailydose and several other mega accounts) shares his strategies and secrets on how to win on Instagram.
You'll learn strategies and get solid ideas on how to build, grow, and monetize your Instagram account for personal or business use. Enrol right now and get instant access!
Blogging Tutorials
How to Start a Blog
Estage Academy – Get access to all the WordPress tutorials you'll ever need to create your very own magnificent-looking "home" on the internet, even if you're not a "techie."
Launch Your Blog – A solution to successfully build and launch your blog with WordPress in 1 month or less, without knowing any code or needing to be a tech wizard, guaranteed!
Start a Blog Bootcamp – Step-by-step instructions to help you start a blog the right way
How to Successfully Organize a Blog with Multiple Topics – You CAN have a blog about many things. This is how to make it happen.
Printable 2018 Blog Planner – Organize your email campaigns and blog post ideas many weeks into the future.
How To Grow Your Blog Traffic
How To Make Money From Your Blog
Travel Blogging Tutorials
Enter the lucrative and glamorous world of travel blogging. Superstar Blogging is a multifaceted school teaching you all aspects of running an online travel website.
Whether you want to turn your hobby into something more or find a way to move your career forward ten steps, Superstar Blogging courses will give you that insider's depth of knowledge you need.
Food Blogging Tutorials
Lindsay and Bjork Ostrom show you how to start and grow your food blog with Food Blogger Pro. Get access to a library of over 300 easy-to-understand videos made for beginner to intermediate food bloggers.
Join an active community forum where you can get your questions answered (and meet some awesome bloggers while you're at it). Get exclusive discounts on tools and services made specifically for food bloggers.
ESSENTIAL BLOGGING TOOLS & RESOURCES
The only legal bundle (the 3 best-selling legal templates + 9 bonuses) you need to comply with the law + protect your blog and online business legally.
Free legal policies online are deficient, not drafted by a real attorney and don't offer you the complete legal protection and peace of mind you deserve. You know the legal pages on your website are VERY important and required by law but you have no idea where to start.
You find the "legal stuff" confusing, complicated or intimidating. You think lawyers are expensive so you end up wasting valuable time trying to write the legal pages yourself, but you are not confident in your ability to write the legalese.
The Legal Bundle For Your Website includes ALL 3 Legal Templates you need to complete the legal pages on your website within minutes!  It comes with:
Terms and Conditions Template for Your Website
Have the complete satisfaction and peace of mind knowing that all these legal templates are actually drafted by an experienced attorney instead of relying on free policies that do not provide the same comprehensive legal protections you need for your business.
Best WordPress Blog Hosting
I've used a number of web hosts since 2001 and have realised that the #1 thing that matters in a web host is stellar customer service. Not having that will give you nightmares when your websites go down.
While everyone and their dog are recommending Bluehost (not that they're not great, I just haven't tried them yet), I recommend HostPapa ever since I moved all my websites over to their VPS service and got access to their excellent customer service.
Their response time is awesome and so is their technical support. Get your optimized WordPress hosting at just $3.95/month.
Social Media Schedulers
Here are some of my favourite social media schedulers that I use regularly to boost the reach and duration of my content on social networks.
Pinterest's approved scheduler and the complete Pinterest and Instagram marketing toolkit for bloggers and small businesses. Schedule posts, discover content, monitor conversations, amplify your reach, and measure results. Best of all, you get access to Tailwind Tribes, which can really take your content viral.
Social Media Management, Simplified. Crowdfire helps you discover and schedule content, and manage all your social accounts from one place.
Optimize your Twitter account. Follow the right people, unfollow inactive accounts, engage with your fans and followers and keep an eye out on your competitors' followers
Get tailored posts for every social network. Automagically customize your posts for all your social profiles, taking away the headache of crafting separate posts for each individual social network!
Discover relevant content based on your topics of interest. Automatically discover articles and images your audience will love, so you can share them with all your social profiles and keep your timelines buzzing!
Publish content from your own blogs and sites. Keep an eye out for updates from your website, blog or online shops and create quick, beautiful posts for every update to easily share on all your social profiles!
Pre-schedule all of your content. Schedule all your posts in advance and publish them automatically at the best times or at times chosen by you, saving you tons of time and effort!
Imagine getting a year's worth of engaging social content and branded imagery for each blog post you publish.
Missinglettr is a drip-marketing tool that analyzes your blog post, looking for quotes, content and imagery it thinks will work well on your social platforms. It even knows how to find hashtags that will help your content really stand out.
Now, whenever I publish a blog post, I get sent an email (within minutes of me hitting 'publish') inviting me to review a full 12-month social marketing campaign for the blog post I just published.
All I need to do is review their suggestions (making edits if I need to) and that's it. My blog post is then marketed across my social channels for the next year – driving traffic back to my site.
Sign up for their webinar and learn why a drip marketing campaign is so important, and why you should be creating them for each blog post you publish.
Email List Building Tools
I just moved all my lists over from Aweber to Convertkit and have started getting subscribers in the double digits every day because they offer so many customizations for subscription forms and make it so easy to build your list, even if you have no technical skills. There's very little I don't love about this email provider.
You can use Leadpages, which offers a 14-day free trial, to create beautiful landing pages that will help you capture emails, build sales funnels and run Facebook ads to your landing pages, all without a website. Leadpages costs as little as $25/month for a subscription.
Leadpages' Pro version has a feature called LeadDigits, that allows you to capture email addresses and phone numbers through SMS text messaging. How this works is that you have a prospect text a certain word or phrase to a specific number. When they do that, they'll receive a text telling them to respond with their email address. As soon as they send their SMS, they'll be added to your lead funnel.
Course Creation Tools
Webinars are one of the best ways to build your email list and I personally love WebinarNinja. Their all-in-one platform is all in the cloud.
Your attendees can join your webinar with any web browser, on the desktop or any mobile device. There is no need for them to download or install any software. It couldn't it be faster or easier for them to attend your webinars.
WebinarNinja does require a credit card to sign up, but it gives you everything you need to run your webinars. I found them the most economical webinar platform with all the features I need -Live, Automated, Hybrid, Series or Summits. They have excellent packages for beginners.
A free online course can be one of the best lead-magnets. Teachable is the platform I use for my own online school, Naaree Academy.
Start now and turn your knowledge into a profitable online course. Create a beautiful school that 100% matches your brand by adding your own logo, images, colours, and page elements with our easy to use page editor, even if you zero technical skills and you're just getting started.
With Teachable's easy-to-use online course creation platform, you can create courses without ever having to worry about tech, hosting, design, or marketing integrations. Special Offer For First Time Customers: Upgrade to a paid Teachable plan and get a premium course creation bundle.
Start accepting payments on your WordPress website in minutes with the full Membership Site Plugin for WordPress.
MemberPress will help you build astounding WordPress membership sites, accept credit cards securely, control who sees your content and sell digital downloads, all without the difficult setup.
Read their article, "What Membership Software Should I Use?" to learn more about WordPress membership-site plugins.
Blogging Themes & Plugins
This unique, custom and special WordPress theme is specifically created for entrepreneurs. It is a platform that will give you a 'home' on the internet, a stage, a voice, and a stand. You'll be able to brand yourself like a professional and take your game to the next level.
Tasty Pins is a WordPress plugin that allows you to optimize your blog's images for Pinterest, SEO, and screen readers. Your image's alt text should be used to describe what the image is, not to add a description for Pinterest.
Tasty Pins allows you to do both! Set descriptions for your images that will perform well on Pinterest search. Include hashtags, keywords, and whatever else your heart desires.
Page Speed is now one of Google's ranking factors. Your WordPress blog needs a fast-loading and light theme to load quickly. Astra for this blog is a fast, fully customizable and beautiful theme for blogs, personal portfolios and business websites.
Leadpages is blocked by many ad blockers and expensive to boot. Convert Pro is a powerful lead generation tool that converts your website traffic into leads. It costs much less too. Get 300% more leads with Convert Pro.
Schema markup can give you more visibility in Google search results. Creating a schema markup is no longer a task! With a simple click and select interface, you can set up a markup in minutes.
Marketing Tools
Turn your website visitors into paying customers with JivoChat, a free tool to help you to monitor and talk to your clients on your Website, Facebook, Email, Phone, Telegram and Viber in real time.
Want the opportunity to give away Free Vacations to your leads, prospects and clients? Grow your business using sales incentives. With Advertising Boost, it's as easy as 1,2,3 to give away vacation incentives to your leads & clients to grow your business. Try for free.
WordPress Blog Design & Troubleshooting
One of my favourite websites to hire freelancers to help me tweak and fix my WordPress blog. I have used them many times, to design logos, speed up my WordPress install, take care of SSL issues and even fix my blog.
The best place to find and hire talented designers to grow your business. Get a custom design you'll love with this global creative platform. Get the perfect logo design – or any design in over 90 categories, whatever your business need or budget. Find a designer with just the right skill set, and collaborate one-on-one with them on your project.
Ecommerce Tools & Tutorials
Build your online store with BigCommerce. Customize your site, manage shipping and payments, and list your products on Amazon, eBay, and Facebook with the #1 ecommerce platform. Try it free, no credit card required.
In this short program, you'll be introduced to a whole different world of doing e-commerce. You'll discover and learn strategies that will help you win in the business of e-commerce, separate yourself from competition, build real brands, and play the game like a pro.
Shubham's approach to doing e-commerce is totally different from what is being propagated by other so-called "e-com gurus". You'll discover why drop-shipping should be avoided and how to build a real e-com business, the one you can pass down to your kids and grandkids.
Password Managers
I have been using Roboform as my password manager for many years, and I love it. Roboform Anywhere allows you to use the password manager anywhere you travel through a Google Chrome extension. I wouldn't be able to manage my online business without it. Click here to download the installation file.