Disclaimer: This blog post contains affiliate links. I may earn a small commission to fund my coffee habit if you use these links to make a purchase. You will not be charged extra, and you'll keep me supplied in caffeine. It's a win for everyone, really.
I've scoured the internet to find the best Cyber Monday deals and deep discounts to help you build your business online.
Here are 5 of the best Cyber Monday deals on hosting, domains and some of the best marketing tools to help you build your business online, including a discount for my own course.
Starting your own business and doing work you love is truly life-changing. But to reach those goals, you have to have a solid product and an audience who believes in you to give that product.
My friends at ConvertKit have bundled their best products into a Creator Starter Kit for today only. Their goal is to help creators (that's you!) earn a living.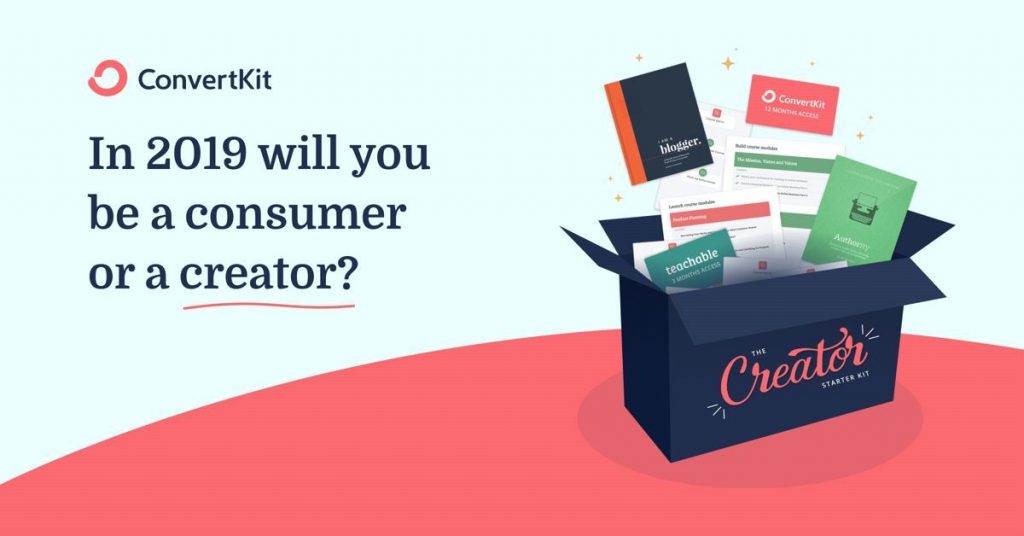 As a new online creator, you'll find everything you need to build, launch, promote, and grow your new business and reach your goals in 2019.
You'll get:
A year subscription to ConvertKit for up to 1,000 subscribers
Lifetime access to Creator Pass, a suite of business education and resources
A 90-day trial of Teachable, an online course platform
Six (yes I said six!) email sequence templates that you can copy straight into your ConvertKit account and use immediately
And 2 books to inspire and inform you of the ins and outs of being an online creator
Learn more about the Creator Starter Kit. I personally use both Convertkit and Teachable to deliver my emails and courses and swear by them when it comes to growing my business online.
This is the first and last time ConvertKit will ever run a massive deal like this, and I don't want you to miss out! This could be just what you need to get your 2019 goals off the ground and skyrocketing.
Click here to access the Creator Starter Kit
I'm offering a discount of $10 on my Become a Content Magnet Masterclass recording plus exclusive downloads. Get 6 steps to publish free, expert content to your blog without paying writers or writing it yourself.
Click here to get Become a Content Magnet for just $7 instead of $17
I use SiteGround for my client's websites. They have excellent service and support.
Black Friday & Cyber Monday sale on November 23-26, 2018, will offer huge 75% savings on all annual shared hosting plans.
Check out the Siteground deal here
Embark on their extended quest, where you'll have the chance to capture even more incredible offers and reap epic savings! Join in from 12 AM EST on Monday, November 26.
Deals change every hour and supplies are limited. The most popular deals may disappear quickly, so when the time comes, act fast!
Check out the Namecheap deals here
HostPapa's massive sale starts Friday, Nov 23rd 2018, at 12:01am and ends on Tuesday, Nov 27th at 12:01am.  This is my preferred web hosting service. I use them for my own websites.
Free Domain Transfer – Already have your domain name? Transfer it over to HostPapa for free and set up your website on our powerful servers with 99.9% uptime, guaranteed.
Free Website Migration – The thought of migrating your website from one host to another can be daunting. But we'll help you every step of the way to ensure your website stays online and available.
Check out the HostPapa deals here
Learn how to set up a WordPress blog in a weekend. Get access to my WordPress Setup Step-By-Step Videos, How To Blog 101 PDF and Private Facebook Group.
100% privacy. I will never spam you.