Website content writers, learn the craft of writing for the web with these website copywriting, web content writing tips, and blog writing tips.
When writers who are used to writing for print publications jump into web-based writing, they discover a learning curve they have to overcome before they can become professional website content writers.
Writing web copy is not the same as writing for print, as web copywriting needs to cater to both search engines and humans. So, the online content writer has to follow a different set of rules when writing copy for websites.
Also, those who offer website content writing services must be skilled in writing persuasive web copy that sells or triggers a certain action from readers, since most web copy is written with a conversion goal in mind.
7 Web Content Writing Tips For Writing For The Web
Are you a website content writer or freelance web content writer who's just started out writing for the web? Then you'll definitely need these web content writing tips to learn the craft of website copywriting.
In this blog writing tutorial, you'll get blog writing tips and online writing tips to help you start writing for the web. If you need blogging tips for writers, you'll find this blog writing guide very helpful.
1. Understand how to use keywords properly
Keyword research is an absolutely essential skill for professional website content writers. Freelance writers who do any form of web content writing must understand the basics of keyword research.
My favourite SEO guru, Brian Dean, has a free keyword tutorial that will help web content writers understand how to do keyword research.
As a website content writer, SEO content writer, or blog content writer, you need to understand terms like keyword density, keyword frequency, keyword prominence, and keyword proximity.
These terms refer to the "why, how, where, and how often" of keyword placement in your web copy and will help you understand how to leverage keywords to boost your search rankings.
But if you want a clear writing process for creating web copy that's optimized for your audience and for blog traffic, the Creating Content for Blog Traffic Masterclass will help you learn the basics of SEO copywriting.
In this blog content writing tutorial, you'll learn blog writing tips for beginners, such as how to source a blog topic, compare blog topics, and optimize the blog topic for keywords and traffic.
You'll also learn the key fundamentals to understanding your audience, from how different types of blogs create content, to how to change your content to fit your audience.
You can also check out the SEMRush Content Marketing Toolkit to enhance your content strategy with a content audit, SEO content templates, and SEO writing assistant.
Join freelance writing expert, John Morrow, in this free webinar on how to become a highly paid freelance writer and learn how to make six figures as a freelance writer, working from home whenever it suits your schedule.
Learn how to increase your online conversions in this free Content Marketing Fundamentals Course featuring the passionate digital marketer, Ashley Segura.
You'll learn how to create content and what kind of content to create, how to measure whether it was successful or not, and what to do with it afterwards.
This list of the best SEO content writing tools will help you write SEO friendly articles? You'll learn how to get the best SEO tools free and create SEO content for blogs with these content writing tools for SEO.
2. Use simple and easy-to-understand language
Professional website content writers know that the average reader online reads at an 8th-grade level and, if you're writing for the non-native English speaker, you should aim even lower.
When writing for the web, this means you should write in a conversational tone and use simple and easy-to-understand language.
Keep your sentences short and comprehensible. No long, maudlin sentences that take an eternity to read.
Delete all unnecessary words that don't improve your copy – unless they're keywords.
Explain complex concepts clearly the way you would to a child. Find creative ways to make them clear and comprehensible.
Always choose the simplest word or the one that's easy to comprehend. For example – using instead of utilising.
Unless your average reader is a writer themselves and has excellent language skills and comprehension, never use highfalutin or pompous language just because you think it will impress your reader.
Remember that your reader is on your website to be informed, to learn something, or to be entertained, and they have no time for confusing or pretentious words that require a dictionary to understand.
Use active voice instead of passive voice
Active voice is straightforward and direct (we're cooking pasta tonight) while passive voice is roundabout and indirect (pasta is going to be cooked by us tonight).
The Hemingway app is an online content writer tool that offers effective suggestions to turn passive voice sentences into active voice and get rid of excessive adverbial phrases.
Use online writing tools to improve writing skills 
Grammarly is another essential online editing tool for writing that checks for over 250 types of common and advanced English grammar rules.
You can find more online writing tools to help you write better headlines, check for plagiarism and grammatical mistakes, and improve your writing skills to make you a better web content writer.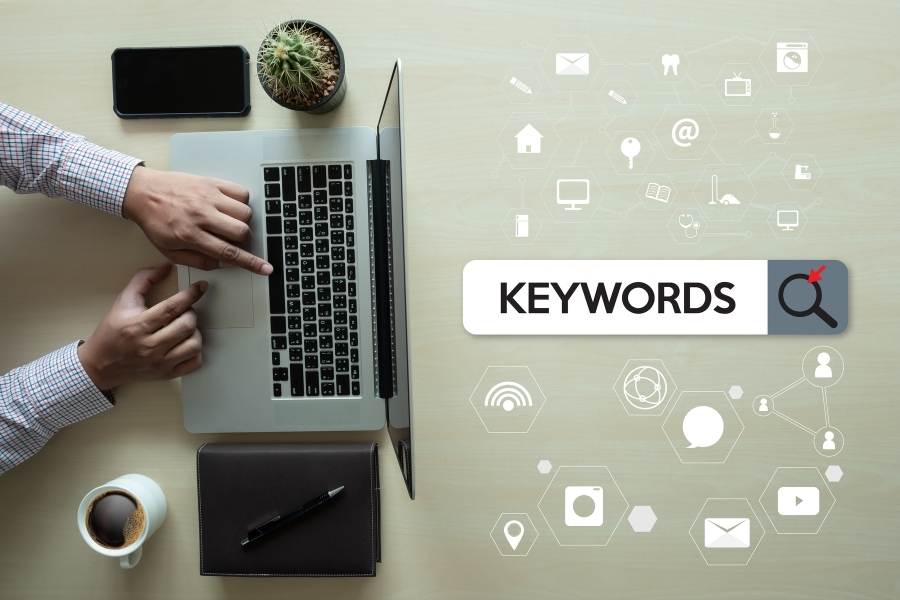 3. Use sub-headings and bullet points
There are four types of reading styles that readers use to consume content online:
Scanning
Skimming
Focused Reading
Combination Reading
Most people are scanners and tend to scan the main points of the article to see if it's of use to them before they move on to focused reading.
When you use sub-headings and bullet points to add emphasis and break up your articles into sections, you'll end up grabbing the attention of all four kinds of readers.
Sub-headings categorized by header tags (H1, H2, H3, H4, and so on) are also important for letting search engines like Google understand the topic and overall theme of your articles.
Google passage indexing is a feature of Google's ranking algorithm that pulls sections from pages into the search engine results, even if the page covers a slightly different topic from the main one.
With passage indexing, Google can pull out sections of your content and rank it independently of the rest of the page. This makes it even more important to use Sub-Headings to break up your content into index-able passages that Google can rank.
To make your article even more readable, use a Table Of Contents WordPress plugin to insert a table of contents into your posts, pages and custom post types.
This will help you create a useful Table of Contents (like the one at the top of this article) to help your readers browse through the sub-headings in your article easily and skip to the passage they find most interesting.
You can even interlink your blog or website pages to specific passages in your article using the links in the Table of Contents.
4. Whitespace is your friend
Never publish articles with long and unreadable blocks of text that no one can read. In all my articles, I ensure that no paragraph is more than 2 to 3 sentences long.
Break up your web copy into short paragraphs, with lots of whitespace in your web content layout, as this makes it easier for readers to read your content. As UX Designer, Pratik Hegde, writes:
Using white space evenly makes the content in the design easily scannable and significantly improves legibility. Proper use of white space between lines of paragraphs, and its left and right margins, can increase comprehension up to 20%.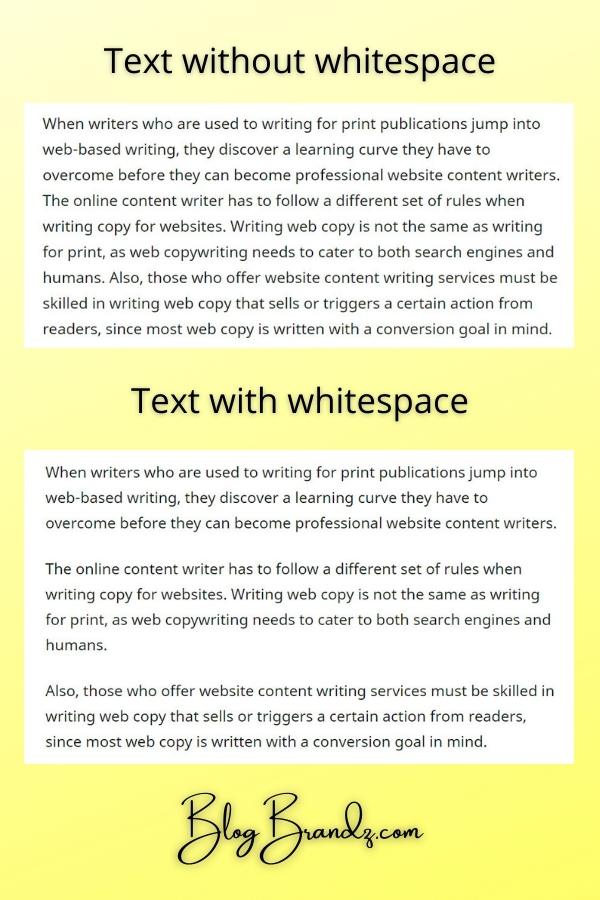 5. Use a large font size
Online readers have no time to squint at your tiny text. Many of them are elders like me who wear reading glasses and appreciate it when you make it easy for them to read your content.
So avoid tiny text and use large font sizes to help readers of all ages read your content comfortably. The kinds of fonts you use also matter as some fonts are more readable than others.
An IBM and Google eye-tracking study found that serif fonts (like Georgia) were read 7.9 per cent faster than sans serif fonts (like Helvetica). This website offers a list of the best and worst free fonts for your body content.
6. Break up long-form web copy with visuals
If you're writing long-form content, such as articles of 2000 words or more that can rank in search engines, you should also break up your web content with visual elements.
According to BuzzSumo, articles containing images are viewed 94% more than those without and the sweet spot for breaking up text with images is to add one image every 75 to 100 words.
Neil Patel (who probably did his own testing) recommends using one image per 150 words of web content.
Here are some types of visual elements you can include to break up the web copy, especially in long articles:
Quote boxes
Click to Tweet boxes
Images and infographics
Video embeds
Interactive embeds
Screenshots
Tables and graphs
Polls
Make sure the images you use are clear and not fuzzy. You can find many high-quality, royalty-free images in the free version of Canva, my favourite graphic design software.
Also, make sure to use relevant keywords in both the Title and Alt Tag of your images for added SEO juice.
If you create Pins to share your blogs on Pinterest, keep in mind that your Pinterest image's Alt text should be used to describe what the image is, not to add a description for Pinterest.
Use the Tasty Pins plugin to optimize your blog's images for Pinterest, SEO, and screen readers, and set descriptions for your images that will perform well in Pinterest search.
Embedding videos in your articles is also a good idea because it can increase the time your readers spend on your website (which is a ranking factor) and keep them more engaged with your content.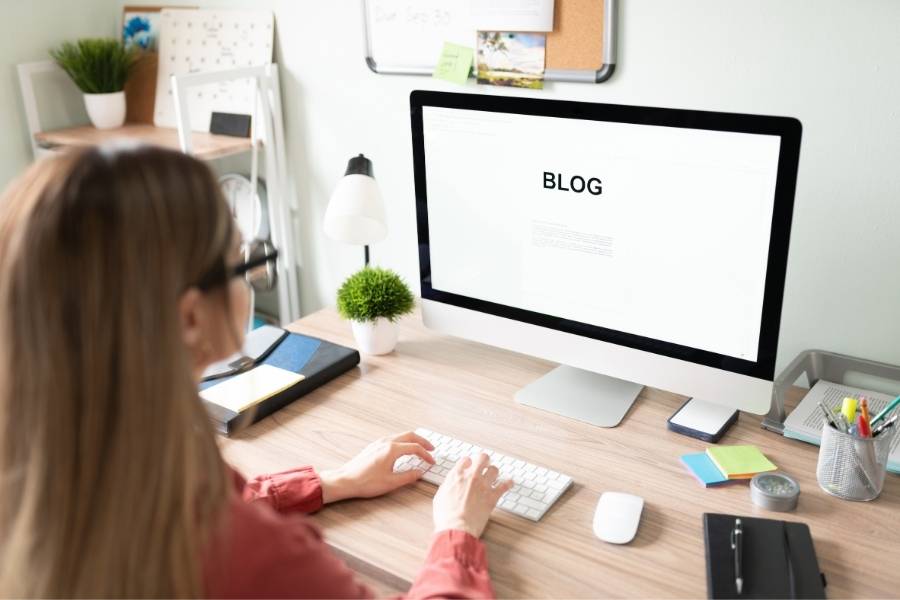 7. Follow UX design best practices
When designing and building your website or blog, your web development and content writing teams need to work together, as UX design elements are important in enhancing the readability of web content.
There are certain best practices you can follow to improve readability and ultimately, user experience (UX) for your users, like ensuring sufficient contrast between the font and the background.
In addition to the online writing tips above, you can visit these writing websites with freelance writing courses to improve your writing skills.
Want more writer branding and blogging tips for writers? Learn how to build a freelance writer website or writing portfolio website with this free WordPress tutorial for beginners.
More blog content writing tips: