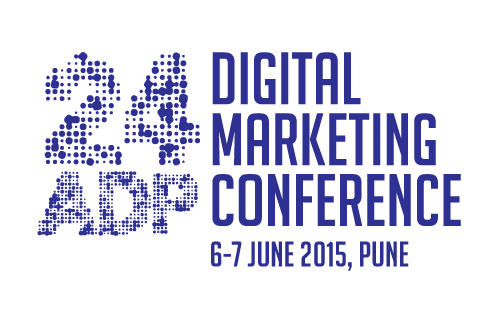 A couple of days ago I met a potential client who was very well informed about digital marketing and wanted an expert opinion on some of the tactics he had implemented on his website and blog. I found it refreshing to discuss digital marketing with someone who had obviously done his homework.
Whenever I work with a client who is knowledgeable about digital marketing, it is not only a pleasure, but also leads to more effective marketing strategies as both of us are on the same page.
This is why I believe that, if you are a business person or entrepreneur in Pune, you must have at least a basic knowledge of digital marketing (DM) in order to understand how to best implement it in your organization.
An initiative of the Pune Digital Marketers group, 24adp is the first digital marketing conference exclusive to Pune. I would advise all business persons and startups that intend to use DM in their marketing mix to attend these sessions. For a small investment, you will learn how to apply DM principles and strategies to growing your business.
Digital marketing or social media conferences usually happen in Mumbai, Bengaluru, Delhi and Hyderabad. This one is happening for the first time in Pune. The conference aims at educating and engaging all those who seek to understand the endless benefits of digital marketing.
If you're a Digital Marketer, Decision Maker, Marketing Head or Entrepreneur, this is where you should be on the the 6th (Saturday) and 7th (Sunday) of June 2015.
Each day will have speaker sessions and panels that will give the insights of some of the prominent digital marketers. The outcome will be an event stretched across two days with each day 12 hour session of insightful and engaging conversations based on knowledge sharing.
Another reason why I recommend this conference is because I will be speaking on Real Estate Blogging at one of the parallel sessions on 6th June (Saturday) at 11.30 am. So if you work in the real estate industry – as a marketer, developer or are a real estate agent, you might want to attend this session where I will be discussing how I use blogs as marketing tool to promote my real estate clients.
You can read more about 24adp and register at http://www.24adp.com/
👩‍💼 Free Personal Branding Course
Signup
👩‍💼 Free Personal Branding Course
Go from Unknown to Well-Known! Get my eBook 'Be The Expert' + a Free WordPress Setup Course
100% privacy. I will never spam you.
100% privacy. I will never spam you.