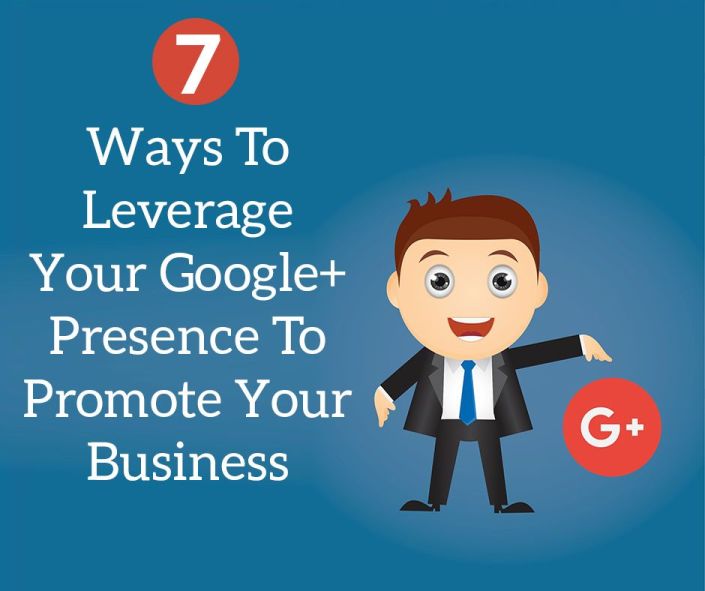 This is an updated version of a post that was published on Social Media Examiner.
Are you distraught at the announcement that Google+ as a social network is, more or less, redundant?
Ever since Google announced that it will no longer be necessary to create a Google+ profile to use its other products, marketers have been lamenting the death of Google+.
But, despite the fact that Google's attempts at creating social networks haven't exactly met with resounding success (think Google Buzz, Wave and Plus), Google+ has a number of products that many marketers love and will continue to use for a long time.
There is reason to be hopeful about leveraging your existing Google+ presence. According to the Social Media Examiner, Google+ has a strong international following. In India, 80% of Internet users have a Google+ account, and nearly 40% are active on it regularly.
Google's strength has always been its search function, so features that are linked to Google search have and will continue to be very popular. In this article, I outline seven ways to use your Google+ presence to promote your business.
1. Create a Google+ Business Listing
This used to be the most important Google+ feature, especially for businesses that have a local presence.
Not only did a Google+ business listing increase your visibility on local and mobile search, but it allowed potential customers to call you, get directions to your business on Google maps, and check out your verified business website.
Your listing also made your business' photos and YouTube videos easily findable on your business page and let your customers leave reviews for your business right on your Google+ page.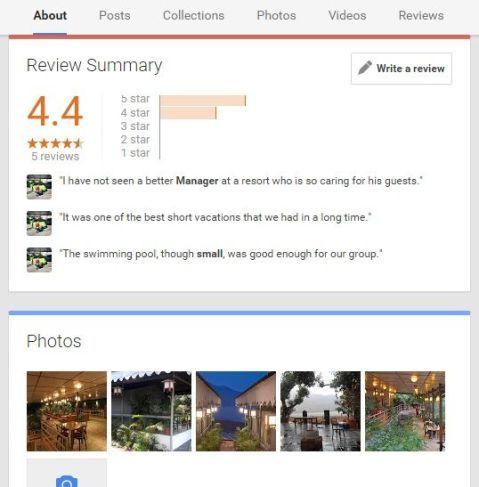 However, with recent changes to Google+ Local, the Google Places API has stopped delivering Google+ Local page URLs and is rendering Maps-based URLs, instead, reports Miriam Ellis on Moz. Google+ Local pages are all but invisible to the public now, so your Google+ Business Listing may not give you the same benefits that it once did.
But, until Google officially pulls the plug on Google+ Business Listings, there's no reason to delete your business page, if you already have one. Google still uses all the information you've provided in your business listing to show your website in local search results.
Check out this business listing for a restaurant in Pune, India. As a result of verifying the business website, it now ranks #1 in the organic search results for the business name. Also the listing clearly shows all the business' information, including their location on Google maps and customer reviews.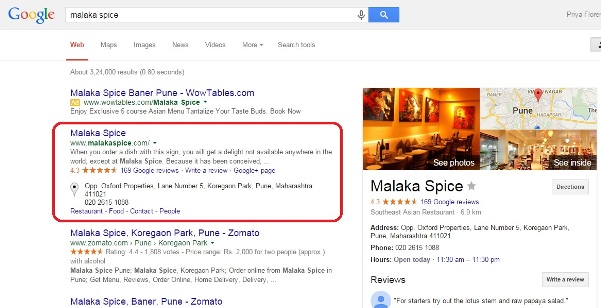 Unless Google starts offering another way to verify your business information that has nothing to do with Google+, your business listing could become even more important as the importance of mobile search grows.
If your business is a retail store, restaurant, cafe, or hotel, your Google+ Business Listing will remain a crucial part of your online presence for some time.
2. Add People To Circles
Google+ Circles offers a very effective way to create subsets of people we're connected to and share content and updates selectively with them. You can use Circles to segregate friends, customers, business partners, affiliates or influencers you follow.
Circles still has value, in this sense and, for some users, it has substituted email usage, allowing them to send updates to a large number of people without the restrictions that come with Gmail.
Here's how I've create circles based on friends, family, clients, and people I've met at conferences. It helps me segment my updates to my audience and their interests.

3. Create and Join Communities
For a long time now, Google+ Communities has offered us a way to organize groups of people around a topic of conversation or a cause.
According to Google+ evangelist, Guy Kawasaki, "Communities have transformed Google+ into a more deeply connected environment, people's favorite communities have become a starting point for their Google+ activity each day. Whether you're representing a brand or are an individual with a passion, communities are a way to connect with like-minded people."
You can use Communities to recruit and connect to passionate advocates of your products or your cause. Or you could just create one around a passion or topic of interest, like a football club or a movie franchise. It's no surprise that the Star Wars community is one of the most popular communities with over 4 million followers.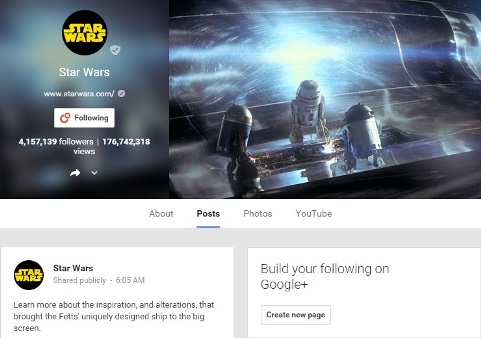 You could create a Community for your family or college alumni. You can also join other people's communities to network with like-minded people.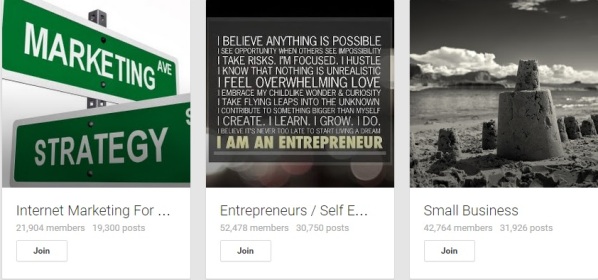 Peg Fitzpatrick advises that you don't just replicate your Facebook or LinkedIn Community on Google+. Make your Google+ Community unique so that it provides real value to its members. One way to do this is to organize a Hangout on Air exclusively for your community members.
4. Create and Curate Collections
Collections are a unique way to group your posts by topic. This feature allows you to categorize the content you share on Google+. Of late, Google seems to have been adding features to make it easier to add posts to a collection, and they seem to be expending some effort on adding bells and whistles to this feature.
According to Google, "Posts in collections you follow will appear in your Home stream, with a link to easily jump right into the collection so you can get to similar content from that author."
I found, to my surprise, that creating a Google+ Collection on my Business Page helped me get over 8000 followers for my Collection in just a couple of months, and increased the number of followers on my brand page as well. The number of followers on my Collection grows at the rate of 100+ followers a day.

At the time of this writing, I have about 111 brand page followers and over 2.5 million views of the content I've shared.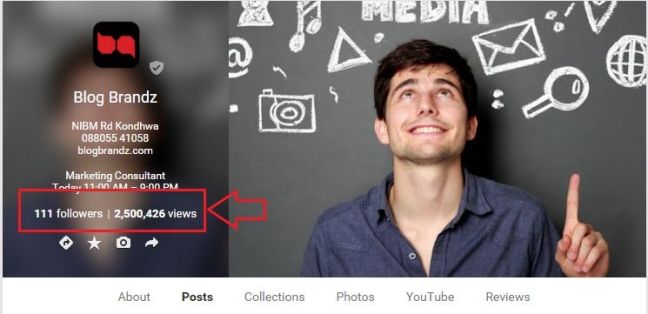 Bloggers can create a Collection of their blog posts and give subscribers another way to get updates from their blog. The Marketing Resources Collection has 743 followers and mostly shares posts from the DOZ.com blog.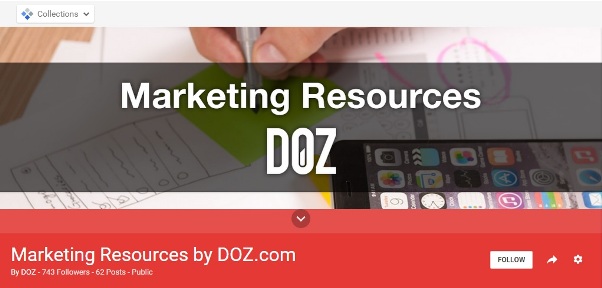 Business people can create collections of their product photos, while non-profits can create collections of their campaigns. You could even create one featuring a list of the books you're reading.
If you create a collection that is especially useful or interesting, you could get into the Featured Collections section. Jack Vetterli's Collection of posts on Southwestern Utah has garnered over 19,000 Followers. Jack shares gorgeous and often interesting photos of landmarks and landscapes of this beautiful natural region.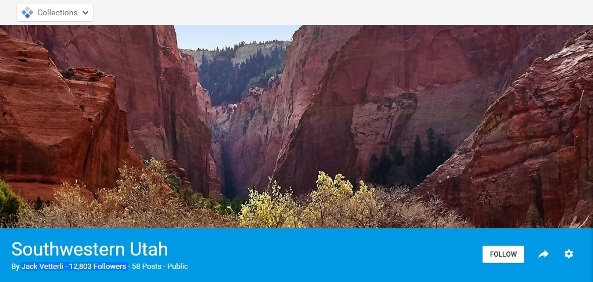 Sabah posts beautiful fan art, gifs and memes to her Game of Thrones collection for her 14,000+ Followers.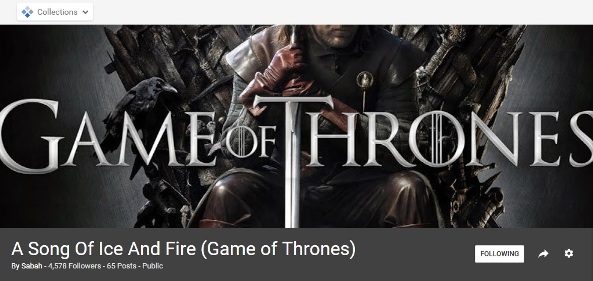 Remember, the best collections are not self-serving. They consist of content shared from a multitude of sources on a topic that you're passionate about, so do promote a lot of third-party content in your Collections.
Does Google believe that Collections will become an increasingly important way to tag and categorize information on mobile devices? The fact that it's already available on Android, and will soon be available on iOS, makes me think so.
As mobile content consumption and sharing increases, it's possible that Collections will become a useful tool to help us classify and share information. It could definitely help to declutter our news stream by following only the topics we're interested in.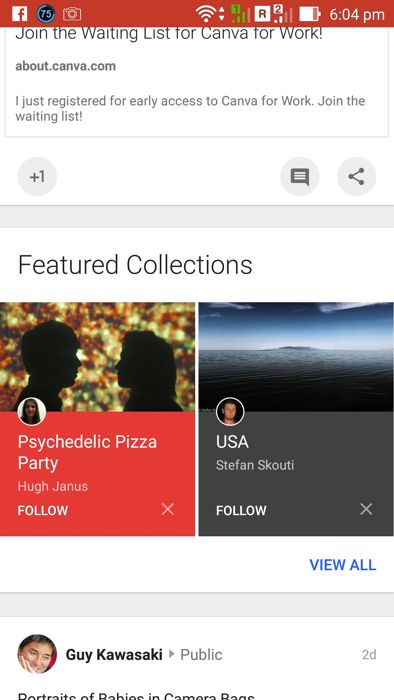 Whether this feature will reflect in better rankings or visibility remains to be seen, but think of it this way. By getting us to create Collections, Google is making Google+ users do manually what its search function does algorithmically – sift and select content that we love and want to share with others.
Ultimately, it could all be part of Google's grand plan to improve the quality of its search results. Collections could be one Google+ feature you'd want to invest some time and effort in.
5. Start a Hangout
Since it was first released, Hangouts have become one of Google+'s most popular tools. Hangouts are being used by business people, politicians, book authors and anyone who wants to connect to an audience in a more intimate and authentic fashion.
Today, hangouts are being used to create and promote events, whether it's a product launch, a book reading, a Q&A session by a politician, a webinar or just a conversation on a topic of interest to your audience.
They are also being used by businesses for video conferencing and by families and friends to connect to one another across the world. Hangouts are a fantastic way to grow your audience and engage with them on social media. My friend, Denise Wakeman, holds regular hangouts for her community of Google+ followers.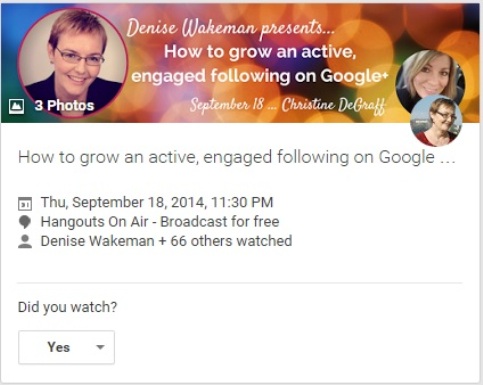 As one of Google's best products, Hangouts and Hangouts On Air have helped Google hit the jackpot as far as popularity is concerned. Their use will only grow as live video streaming becomes all the rage and people find more ways to utilize them to promote a business, cause or political party.
The best part of Google Photos is that it offers unlimited photo and video cloud storage, and apps for Android, iOS, and the browser. It stores high resolution photos and can automatically categorize your photos into People, Places and Things.
When you add photos to Google+, they also become available in your Picasa Web Albums. I especially liked the "stories" feature that helped me create a narrative account – with animated maps and all – of a recent trip I took to South India.

But, with so many apps that help you organize your photos, Google Photos is one app I am not completely sold on, if only because I'm a little leery of the public (or the government) having access to photos that I only want my family or friends to see. As John C. Dvorak notes, it "amounts to inviting people over to scrounge through your underwear drawer."
For all the amazing features of Google Photos, Google's stand on privacy has been rather blurry, so unless they are more transparent about the copyright of the photos we share and what kind of safeguards they will put in place to prevent misuse, I'm wary of using their service, except for photos that I don't mind sharing with everyone.
But, you don't have to worry about privacy if you're sharing photos to promote a business or a cause. As long as you use your keywords appropriately to name your photos, they are likely to show up in Google's search results and give you more visibility in image search.
7. Network with Influencers
Google+ offers a huge opportunity to connect to influencers, follow them, share their posts, and engage with them. For many people, it also offers a clean slate with which to connect to others, devoid of the baggage of family and friends that accompanies your Facebook account.
You can use Communities to find influencers and add them to your Circles. To get noticed by other people on Google+ you need to take an interest in their posts, share them with your followers and add them to your Collections.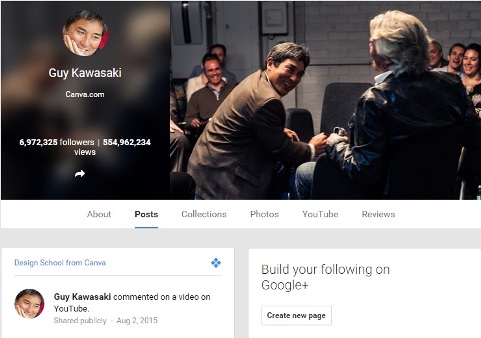 Despite the declining interest in using Google+ as a social network, the tips above will help you leverage individual products available through your Google+ account, so that all the effort you've spent in building it is not wasted.
Did you find these Google+ tips useful? Do let me know in the comments below.