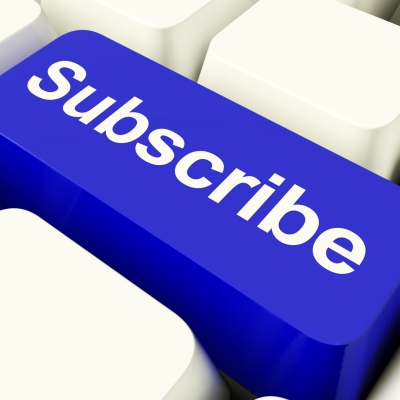 Perhaps more than any other marketing strategy you employ on your blog, e-mail marketing is the most effective way to build relationships with your customers and to drive conversions. It's also an excellent way to ensure repeat traffic and repeat business.
In order to create a powerful e-mail marketing list, you first must build up your e-mail subscribers. Here are a few of the most effective strategies for helping you get more subscribers for your blog fast.
Make Attractive Opt-In Boxes
Your opt-in box is your gateway to your e-mail list. Slapping up a generic text box without any color or styling is unlikely to get very many responses. You need to draw attention to the box and make it inviting to encourage people to signup.
Create a unique box that matches the style of your blog design while also standing out enough to get noticed. Use a quirky design or bright colors. The key is to get noticed while also maintaining a professional look.
Include a Unique Call to Action
Many websites use a generic call to action, such as "Sign up for e-mail alerts" or "Click here to subscribe to my e-mail list." While this is straight-forward, it's not very inviting. Instead, create a unique call to action that is related to the theme of your blog.
For example, if you run a weight loss blog, you could include a call to action that says something like "Learn more about how to burn belly fat" or "Get recipes to help you get the body of your dreams."
Even if all they are getting is blog updates through your e-mail list, that's a better way of showing them what they are getting from your blog besides just "blog updates."
Provide a Free Offer
A free offer is a great incentive to get people to sign up for your e-mail list. Most site owners offer a free e-book or case report.
Some other options can include a free e-mail course, a free series of video tutorials, or even a free "how to" type of book, such as a recipe book or pattern book. Make the offer a good one: The better it is, the more of an incentive it will provide for readers to sign up for your list.
Provide Multiple Offers
Who says you have to have just one opt-in box? Or that you have to have just one offer? You can include multiple offers for multiple opt-in boxes, increasing your chances of attracting new subscribers exponentially.
Again, make sure they are all your best offers. More is not always better. You don't want to clutter up your sidebar with a lot of junky offers.
Make sure that they are all appealing and that the opt-in boxes are all attractive and inviting. Otherwise, you'll make your site look spammy and will turn away potential subscribers.
Put a Call to Action on Every Post and Page
Readers won't always know what you want them to do. You need to make it clear, and you need to be persistent. That's why you need to include a call to action to join your e-mail list at the end of every blog post and every page.
Vary your approach so that readers don't start to tune out the message and so that you find an effective strategy to get the most subscribers.
Some could be direct such as "Please join my e-mail list for blog updates!" while others could be more creative such as "Want to learn how to make more money this year? Sign up for my free e-course!" Experiment to find out what gets the most responses.
Growing your opt-in e-mail list can help you to build relationships with customers and to ensure the long-term success of your business. These tips will help you get more subscribers quickly so that you can start taking advantage of this powerful tool.
What was the strategy that helped you get the most e-mail subscribers?
Bio:
Amber Satka writes on financial topics, such as her look into rebates on used cars. Amber is a former office manager and current mother and writer.
Image courtesy of FreeDigitalPhotos.net