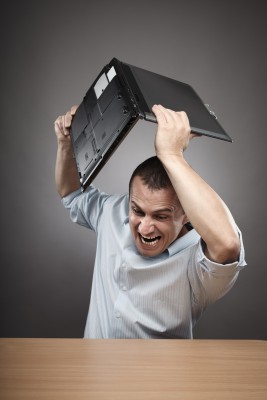 Businesses frequently use blogs to connect with their customers, give more information, and promote the business itself to a wider range of clients.
By updating regularly and having good quality content, business blogs can be incredibly successful and a huge asset to a company.
Using programs like WordPress make blogging easier, but many businesses still make common mistakes when starting a blog.
Here are some tips on how to avoid these 8 common business blogging mistakes.
1. Unusual Design or Layout
Having a website that looks unusual or is difficult to navigate will be frustrating for potential customers. The design should be simple and clean. It's a good idea to have an interesting layout, but make sure that it can still be navigated easily. As of 2015, it is also important that your design be mobile-friendly or responsive and easily viewed on a mobile device.
2. Making The Blog The Focal Point
The purpose of a blog is to supplement a website, not take its place. The blog should not be the main part of the business. Make it a priority, but ensure that the website itself gets the most attention to detail.
3. Stay on Topic
If the blog is for a company that sells bikes, make sure that all the posts directly relate to bikes or bike-related activities. Talking about topics unrelated to the business may be fun to write, but are not going to beneficial for the company. Avoid this common pitfall even though it is tempting.
4. Being Self-Centered
The ultimate goal of a business is to help the customer in some way. Avoid making every post self-promoting and focus on improving the customer's quality of life through helpful tips, advice, and news. Even a little entertainment is appropriate.
5. No Call to Action

So many blogs today trail off at the end with no clear direction. Make sure that every blog post is written with a clear purchase and put a call to action at the end. This could be asking them to share the blog post, or make a change in their lives. It doesn't have to be life-changing, but this call to action is important.
6. Failing to Promote Your Blog
Blogs often don't get off the ground because no one knows they exist. Use other social media sites like Facebook and Twitter to promote the blog an bring in readers. Post links and updates on the company's website to draw attention.
7. Neglecting Your Blog
Blogs are only going to have a loyal customer base if they are updated regularly. Make sure that the updates are consistent. Perhaps updating every Monday is in the schedule. If the blog is a priority in your business, you must take the effort to make it more interesting for customers.
8. Not Keeping an Eye on Comments
Blogs aren't simply written by businesses, customers have the option to leave comments and questions. This is a great way to answer any questions and give out advice, but only if someone is reading those comments. Not only is this a great way to connect with customers, it greats a vibrant and interesting forum for conversation.
These are some of the most common mistakes made by business bloggers and we hope you now know how to avoid them effectively.
© Priya Florence Shah
👩‍💼 Free Personal Branding Course
Signup
👩‍💼 Free Personal Branding Course
Go from Unknown to Well-Known! Get my eBook 'Be The Expert' + a Free WordPress Setup Course
100% privacy. I will never spam you.
100% privacy. I will never spam you.