The one thing that distinguishes a successful marketing initiative from those that never seem to pay off significantly is your brand's authority.
Brand authority is the trust that a brand has earned among its customers and prospects in the business. It also refers to your clients' perception of your brand and to the degree to which they view your brand as an expert on a subject.
A brand's authority depends on a variety of factors, including an active online presence, social media engagement, email marketing, and so on.
Among the many ways you can establish your brand authority, a business blog is one of the easiest and the most powerful.
In this article, I discuss the importance of blogging and list 3 advantages of blogs that help you brand yourself as an expert and build authority in a niche.
What Is Business Blogging?
You might be familiar with blogging, and business blogging is no different. It refers to the use of blogging by businesses to get more online visibility and website traffic.
Similar to social media and direct mail, blogging is a marketing channel that facilitates business growth.
However, unlike your social media account, where you can lose everything if your account is shut down (as quite a few social media influencers have experienced), a blog is virtual real estate that YOU own.
Having an authority blog is even better because it will help you rank higher in search engines and help you get more traffic and leads.
Blogging is a platform that needs very little capital. All that it requires is an investment of time, assuming that you create the content yourself. And there are ways to blog without writing, too.
3 Advantages Of Blogs That Will Help You Establish An Expert Brand
Here are 3 reasons a business blog can be a valuable lead generation tool and build your brand authority.
1. Blogs Build Trust
Nothing is more important in business than trust. Today, website visitors are more sceptical and distrustful of business than ever and they need to know, like, and trust you before they'll shell out credit cards.
Online shoppers often buy products online from people they have never met or deal with companies from distant locations they have never visited. Trust is the coin that makes this online commerce possible. Without it, the entire eCommerce industry would collapse.
In the old days, trust was built primarily by word of mouth – one satisfied client recommending a product or service to another, who told another two. In this way, you earned customers' trust and established authority in your niche.
Today, with the wealth of information that the internet provides, potential customers do not need to call their friends for recommendations.
Blogging can help businesses recreate the same feelings of trust and acquaintance that face-to-face communication provides in case of a brick and mortar store.
Anyone can visit your business blog, learn about your brand, and read the comments or reviews about your product or service.
Today, customers contact vendors much later in their buying process. This was also highlighted by a study conducted by CEB, which showed that 57 per cent of customers made a purchase decision even before speaking to a supplier.
This reinforces the importance of a business blog and why it should contain useful content that assures your visitors of your credibility as a business.
2. Blogs Establish You As An Authority
The best business blogs address customers' problems and address specific pain points their customers have. Consistently posting relevant content that your customers find valuable will help you establish clout and authority in the industry.
Blogging comes particularly handy when you want yourself to be seen as an expert in your niche and a 'go-to' source within the industry.
Imagine the impact of an educational blog post that clears up certain issues for confused customers. They're more likely to come into the sales process and trust your business because you've helped them in the past.
For instance, the Leather Skin Shop blog answers frequently-asked questions like "How to wash a leather jacket without ruining it?" It also answers questions below that buyers are looking for, such as:
Is it safe to wash a jacket in warm water?
Which detergents should I use?
Is a leather jacket machine-washable?
If you take the time to answers such questions, instead of merely focusing on getting new customers, you can position yourself as an expert on the topic in the minds of your buyers.
Whenever your buyers are searching for answers to similar questions, they will be more likely to find your blog post. When it is finally time for them to buy the products you sell, you will most likely be at the top of their list.
If the content of your business blog alleviates your customer's problems and helps them make a better decision, it will establish you as a market authority.
In addition, if your customers ask a question and your sales team do not know the answer, they can look up the information on the blog and address the customer's queries. This will help them appear more professional and provide a better user experience.
In this way, your business blog will attract more loyal customers and ensure that you get repeated sales and better conversion rates.
Your blog could also help you get more media coverage if it gets found by a journalist researching a story about your industry.
Having your own blog could help your opinions, sometimes even your entire article, be reproduced in the print media, making you a power player in the eyes of your audience.
To businesses interested in media coverage, this translates into beating your competitors hollow in terms of media hits and visibility.
Having your own blog can help you achieve this goal with relative ease, as compared to the efforts involved in sending out press releases and courting journalists.
The third-party endorsement you get from the media positions you as the "person-to-go-to" when your customers need a solution that you offer. It also tells your customers that you're a more trustworthy choice than your competitors.
3. Blogs Drive Long-Term Results
Once you publish a blog post that is well-optimized to rank in search engines, it will attract a constant stream of visitors. Your blog posts will help you gain authority, traffic and generate new leads for years to come.
Smart companies understand the power of permission marketing through email updates and know the power of having a list of subscribers that they can market to again and again.
Writing a blog regularly gives your readers and potential customers an incentive to subscribe to your posts.
Having a list of readers to whom you can send out regular updates about your latest products and offers brings them back repeatedly to your website, which can boost your traffic and sales.
The earlier you start blogging and building a list, the greater will be the benefits that accrue from having a large list of subscribers who opt-in to read your posts.
A large list also gives you the advantage of social proof and makes you more influential than your competitors.
It can also stand you in good stead during economic slumps because it decreases your cost of advertising for acquiring new customers and puts your sales on autopilot.
The idea of blogging can be intimidating to businesses for various reasons. They do not have the time, cannot stick to a content calendar, or think that no one will read it.
These are all valid concerns, but if done right, the benefits of blogging for business are immense. A business blog will not only increase your brand visibility but also boost your sales and profits in the long-term.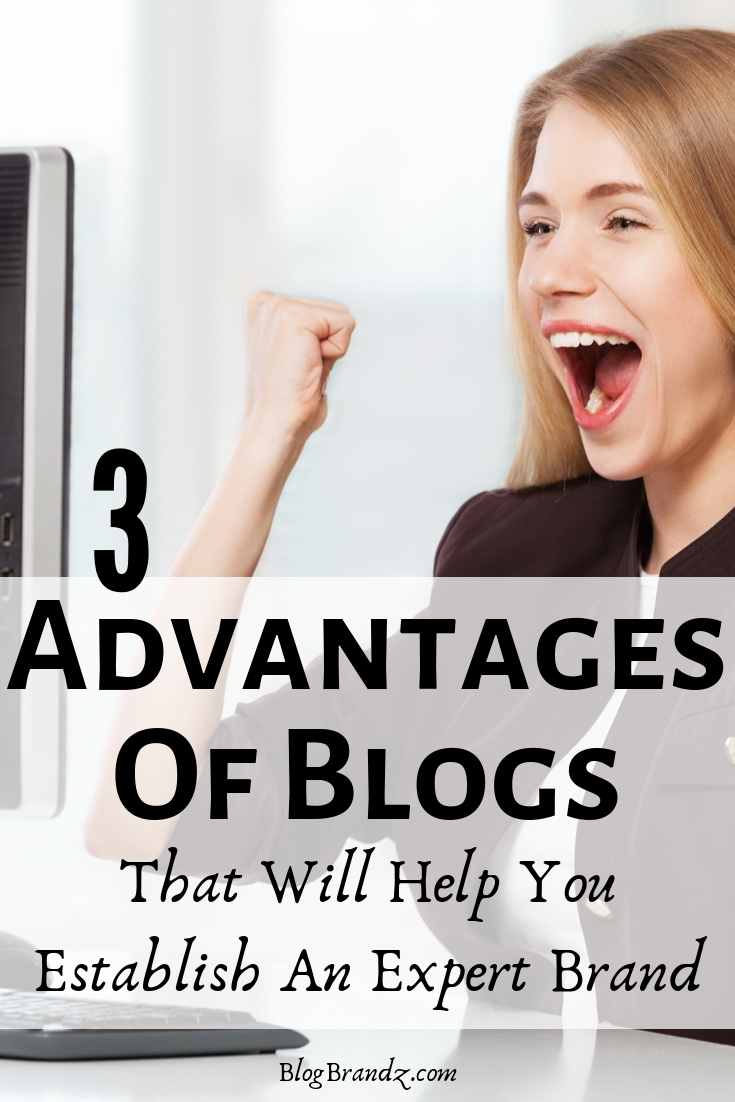 👩‍💼 Free Personal Branding Course
Signup
👩‍💼 Free Personal Branding Course
Go from Unknown to Well-Known! Get my eBook 'Be The Expert' + a Free WordPress Setup Course
100% privacy. I will never spam you.
100% privacy. I will never spam you.