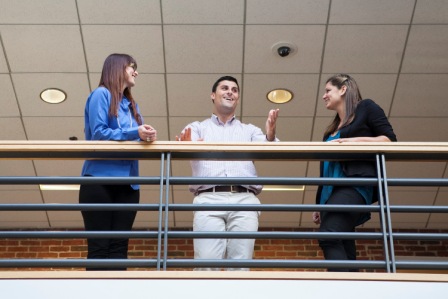 by Liz Lynch
A key principle of Smart Networking is to find ways to combine face-to-face and online networking to build relationships with greater ease and less friction.
That's why I love the opportunities that conferences and big events offer, allowing us to connect with prospects and potential partners — and industry movers and shakers — all in one place.
Conferences bring together top experts who can share innovative ideas that can grow your business, and new industry trends that can help your clients. They stretch you as a professional, ensuring the continued health and strength of your company.
Adding a social media component to your event strategy can make networking at conferences go much more smoothly because you'll get to know people in advance, and they'll get to know you.
But what can you do online that doesn't take a lot of your time but is still extremely effective? Here are 7 ways to use social media to start making connections at conferences before they even begin:
1) Join the online group.
If there's a Facebook or LinkedIn group for the conference or the organization hosting it, join at least a month in advance. You'll get to interact with some of the people planning to attend, as well as get some insider scoop on things to do, sessions to attend, etc.
2) Start a conversation.
Write a short post to introduce yourself to the group and say how much you're looking forward to the conference. Articulate what you hope to get out of it, and to spur engagement, ask others to share their objectives too.
3) Jump into conversations.
Connections happen through conversation, so respond to posts of other members. Writing something short like, "Looking forward to meeting you, Joe!" or simply "liking" a comment will increase your visibility. It also helps build rapport, not just with the person you're responding to but with the whole group, as members see how likeable and enthusiastic you are.
4) Ask for recommendations.
An easy way to get into the conversation is to ask the group for advice. People love to be help so get opinions on sessions to attend, speakers not to be missed, and special events that might be worthwhile.
5) Research member profiles.
For those attending the event, check out their Linked profile to get a better sense of the kind of work they do and opportunities you're looking for. You might discover some great topics for conversations that will come in handy when you meet in person.
6) Connect with speakers.
If you already know some of the sessions you plan to attend, find the speakers on Twitter. Start a conversation as mentioned in #3 to get on their radar screen.
7) Raise your overall profile.
The week before the conference, post status updates on your social media profiles about how much you're looking forward to the event. Use the event hash tag, if there is one, so your posts come up in searches.
Because interacting with attendees before the conference increases your visibility and warms up the connection, you'll feel a lot more confident when you walk in the door. You'll feel inclined to participate more fully. You'll meet more people. You'll have more meaningful conversations. And the experience will boost your results dramatically.
Ready for more training? I work with business development teams and professionals on customized strategies to maximize their returns at major industry conferences. To request a consultation, contact my office at 800-790-5794 or email info@networkingexcellence.com.
© 2009-2013, Liz Lynch International LLC
Liz Lynch, author of Smart Networking: Attract a Following In Person and Online, shows 6-figure professionals how to unlock the power of their connections and convert relationships to revenues easily, consistently and authentically." To learn how to raise your profile and attract the opportunities you deserve, visit www.NetworkingExcellence.com."